Tax powers for Wales: Alun Cairns wants more government accountability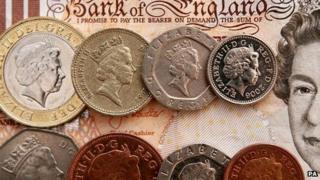 A senior Welsh Conservative says the Welsh government should be more accountable about spending money if new powers on raising taxes are proposed.
The Silk Commission, which has been looking at the future of devolution, reports on Monday on whether Wales should be able to raise tax.
MP Alun Cairns said the government must be "accountable for every penny".
First Minister Carwyn Jones recently said control over income tax could not be fully devolved without a referendum.
Currently, most of the Welsh government's budget comes in an annual grant from the Treasury, currently worth around £15bn.
A cross-party commission chaired by Paul Silk, a former clerk to the Welsh assembly, was set up more than a year ago to examine the future of devolution.
It is poised to deliver a 200-page inquiry report on future funding on Monday.
Mr Cairns, the Vale of Glamorgan MP and a former assembly member, told BBC Wales Sunday Politics: "Whatever the proposals come out of the Silk Commission, they really need to make the Welsh government far more accountable for the money it spends.
"It's far too easy for the Welsh government, of any colour, at the moment to call for more money from Westminster.
"But the reality is it's taxpayers' money that's coming through Westminster back to Wales. So therefore it's essentially important that they have responsibility for what's being spent rather than simply calling for more money."
Mr Cairns said if the cross-party inquiry suggested tax-varying powers for Wales, they would need to affect the majority because, he said, it suited Mr Jones "to call for the most obscure of taxes for which there wouldn't be transparency and accountability".
"If it affects the majority of people it makes any politician think long and hard before changing it," he added.
"And the Welsh government needs to be absolutely accountable for every penny. If you're spending your own money you're far more careful and cautious of how you use it."
In a speech earlier this month to the London School of Economics, First Minister Carwyn Jones said there were some practical issues regarding devolving income tax and he would want the commission to demonstrate it could work.
"There may be scope to move more swiftly to a model of income tax assignment - that is, where part of the Welsh government's resources are drawn from Welsh income tax receipts, but without devolution of any powers to vary income tax rates," he said.
"Full devolution of rate-varying powers could follow at a later stage, with popular consent."
Meanwhile, the Electoral Reform Society (ERS) has warned that the current size of the National Assembly will need to be reviewed in light of additional demands.
The society is urging the Silk Commission to consider how many AMs would be needed in future to ensure ministers are properly scrutinised for the Welsh government budget.
Steve Brooks, director of ERS said: "Over the years, additional powers have been devolved to the assembly including full law-making powers last year.
"While this is a welcome maturing of devolution, the fact that 13 of our 60 AMs are either ministers or preside over assembly business means that the number of government backbenchers and opposition members able to hold the Welsh government to account is limited."
'Scrutinise'
"Voters across Wales will want to know that ministers are using any new tax and borrowing powers responsibly."
In BBC Wales' Sunday Supplement programme, Rachel Banner, of True Wales, the main vote no campaign in last year's referendum on assembly powers, said: "During the 2011 referendum, politicians continually denied that tax powers would follow a yes vote in the referendum even though it was tied in to that referendum, it was tied into the coalition agreement.
"It seems clear to us in True Wales that taxes are likely to go up, not down."