RNLI: Moelfre, St Davids and Mumbles lifeboats upgraded in £42m investment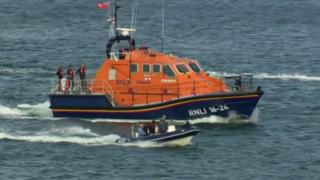 Three lifeboat stations will receive new modern lifeboats as part of £42.5m being invested in Wales by the charity the RNLI.
Moelfre on Anglesey, St Davids in Pembrokeshire and Mumbles in Swansea, will be given faster and more advanced boats over the next two years.
Work will also be done to improve boathouses for the lifeboats.
Moelfre's lifeboat has been funded by a man who was rescued by the RNLI after his ship was torpedoed in World War II.
The family of the late Reginald James Clark, who died in June 2004 and was originally from New Zealand, have requested that the lifeboat be named RNLB Kiwi.
The three lifeboat stations will see their Tyne class lifeboats replaced with the faster, technologically advanced Tamar.
The announcement comes after RNLI crews at Porthdinllaen on the Llyn Peninsula received their new lifeboat on 20 August, the John D Spicer.
The boat is being kept on a mooring while work to build a new boathouse gets underway.
The next lifeboat to arrive will be Moelfre's, which will also be kept on a mooring whilst work to construct its new home begins.
The two other lifeboats are expected to arrive once their boathouses have been built, with plans to complete them by next October.
The Mumbles lifeboat has been funded by the Roy Barker Memorial Fund and will be named RNLB Roy Barker IV.
The St Davids lifeboat is being funded by a bequest of Diane Mary Symon, who died in February 2010, and will be named RNLB Norah Wortley.
'Saving lives'
RNLI divisional inspector of lifeboat for Wales Colin Williams said the Tamar class lifeboat was "the most technologically advanced lifeboat ever produced by the RNLI".
"Being able to provide these fantastic new lifeboats is thanks to very generous bequests for which we are eternally grateful," he said.
"The fact the charity is investing in four Tamars shows our commitment to saving lives at sea off the Welsh coast.'
The first Tamar was launched in Tenby, Pembrokeshire, in 2006, followed by Angle, also in Pembrokeshire, in 2009.