Police and crime commissioners start their new roles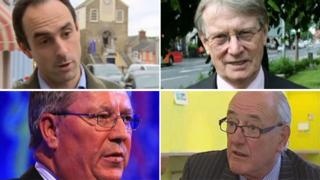 Wales' first police and crime commissioners are starting their new jobs on Thursday.
They have the power to set policing priorities and force budgets, and also to hire and fire chief constables.
Two independents, one Labour and one Conservative were elected last week amid concerns that only around 15% of people in Wales voted.
The elections had been described as the biggest shake-up of policing for almost 50 years.
Former police officer Ian Johnston was elected in Gwent as an independent, as was the Welsh government's former top legal officer Winston Roddick QC in north Wales.
In Dyfed-Powys, the Conservatives' Christopher Salmon was chosen while Labour's former Home Office minister Alun Michael won south Wales.
Commissioners were elected for all police force areas in Wales and England outside London.
The commissioners will be in post until 2016 and will have the power to set policing priorities, budgets and also to hire and fire chief constables.
The UK government says commissioners are not there to run local police forces but to hold them to account.
Wales' commissioners have been sworn in and are now turning their attentions to their new roles.
They take over the responsibility from local police authorities, which were made up of local councillors and appointed members.
At Dyfed-Powys Police Authority's final meeting on Tuesday, Mr Salmon said the force had a lot to be proud of and was one of the best performers in England and Wales with the lowest recorded crime rate.
"However, we must not become complacent and I know that figures only tell part of the story," he said.
"I am committed to maintaining and building on this strong track record of service and performance in policing for all our communities across mid and west Wales."
'Hard questions'
In north Wales, Chief Constable Mark Polin told Tuesday's police authority meeting that the force was under "increased pressure" because of the number of major incidents currently being tackled.
Mr Polin said officers were working on three murder cases, including that of vet Catherine Gowing and five people in a house fire in Prestatyn.
He will now be liaising with new police commissioner Mr Roddick.
In Gwent, Mr Johnston said after election he would be able to "ask the force hard questions and hold them to account and test them on the service they're providing".
Mr Michael's priorities for south Wales included working with police to cut re-offending and putting the needs of victims "at the heart of the system".
Meanwhile the Electoral Commission will carry out a review and submit a report to parliament on the low turnout for last Thursday's elections.