Councils recycle 53% of waste, Wales figures show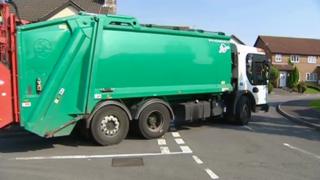 More than half of the waste collected by councils in Wales is now recycled, Welsh government figures show.
Local authorities recycled or composted 53% of waste they gathered in the three months from April to June this year.
Over the quarter, Denbighshire council had the highest rate at 60.5%, and Rhondda Cynon Taf council (RCT) had the lowest rate with 44%.
On average they recycled 50% over the year to the end of June 2012, compared to 46% for the year to July 2011.
The next highest performing local authorities over the last quarter were: Caerphilly 59.9%, Monmouthshire 58.1%, Vale of Glamorgan 57.8% and Flintshire 57.7%.
Over the 12 months to the end of June this year, eight councils saw their recycling rates fall, with Swansea, RCT, Torfaen and Newport finishing the period with a figure below 50%.
Cardiff council's recycling rate rose five percentage points from 50% to 55% in that period.
Figures also showed the total amount of municipal waste generated in Wales has generally decreased, with the tonnage 3% lower for April to June 2012 than for the same quarter in 2011.
The amount of household waste produced per person in Wales also continued to decrease, falling to 63kg per person in April to June 2012, from 69kg per person in April to June 2011.
Environment Minister John Griffiths said: "I am delighted that Wales is now recycling or composting more than half of its municipal waste.
"These impressive statistics are the result of the hard work of Wales' local authorities, and the excellent efforts of householders in separating out their waste for recycling.
"This achievement is largely the result of every local authority in Wales providing a weekly food collection service and householders embracing the system so enthusiastically.
"Separating out food waste not only diverts significant waste away from landfill - it also makes us far more aware of the food we are wasting, which can often result in reduced waste and lower food bills."
"We must now keep the momentum going and continue to build on our recycling success so that we can meet our challenging targets of 70% recycling by 2025 and zero waste by 2050."
Mr Griffiths also launched a plan on Friday to boost recycling rates and reduce landfill from the construction and demolition industry.