Gwent Police catalytic converter theft warning as ambulances targeted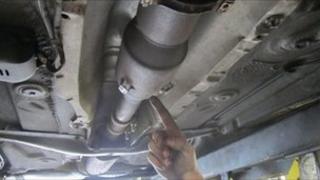 Four ambulance service vehicles in south east Wales have been put out of action after parts of their exhaust systems were stolen by metal thieves.
Police are now warning the owners of large vehicles to try to stop their catalytic converters from being stolen.
The exhaust parts are attractive to thieves as they contain tiny amounts of precious metals.
In the past year 31 catalytic converters have been stolen in the Gwent Police force area.
Mercedes Sprinter vans in particular have been targeted, along with commercial premises which house a number of vans.
However, individual vehicles on the roadside have also had their catalytic converters stolen, Gwent Police added.
The exhaust unit and catalytic converters are removed, sometimes without causing damage to the vehicles or activating alarm systems.
It can take as little as three minutes to remove a catalytic converter, which thieves steal because of increasing prices in the scrap metal market.
In the last two months, four ambulance service vehicles have been put out of action in the force area because of the thefts.
Supt Glyn Fernquest said the thefts were putting "innocent lives at risk".
"Some thieves are quite brazen and may target vehicles which are parked in a public place, or even the owner's driveway overnight," he said.
"I find it despicable that ambulance service vehicles have been put out of action due to this criminal activity - innocent lives are being put at risk due to the greed of thieves."
Officers are working to raise awareness about what can be done to prevent the thefts.
Advice includes property marking catalytic converters by etching a serial number onto them and weld bolts shut to act as a deterrent to a thief working with a spanner.
Drivers should also park next to walls and other vehicles to make access under vehicles harder and ensure there is good security lighting, the force added.