Large Hadron Collider: Atom-smasher recreated in Cardiff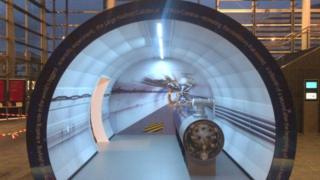 Visitors will get the chance to walk through a full-size replica of a section of the world's biggest "atom-smasher" at an exhibition in Cardiff.
Welsh scientists involved in experiments with the Large Hadron Collider (LHC) will also be on hand.
The exhibition at the Welsh assembly showcases the experiment trying to find the building blocks of the universe.
Dr Lyn Evans, the Aberdare-born head of the Hadron Collider project, is due to address VIPs later this week.
PhD students from universities at Swansea and Cardiff have also been involved in the project to find the so-called God particle, or Higgs boson.
Some will help to explain the work at CERN in Geneva, Switzerland, during the week-long exhibition designed to inspire young scientists of the future.
Theoretical particle physics PhD student Wynne Evans, from Swansea University, said: "The fantastic discoveries at CERN this year have been all over the news, but I know a lot of people are not quite sure what a boson is, or why we've been trying to find one.
"I hope that by explaining how our experiments work and why we think they are important we will inspire more young people to get into science, continuing the LHC legacy for many years to come."
An estimated 10,000 scientists assembled the ring-shaped tunnel below the Swiss and French border.
It is about 100m (330ft) underground with a circumference of 27km (16.7 miles).
A replica of the section has been erected in Senedd building in Cardiff Bay, hosted by the Science and Technology Facilities Council (STFC).
There will also be interactive exhibits, including a spinning ball particle accelerator, which shows how the 1,600 superconducting magnets within the LHC can control and accelerate a subatomic particle.
STFC chief executive Prof John Womersley said: "This visit by the life-sized model of the LHC to the Senedd is a wonderful way to remind the people of Wales of just how big a part Welsh scientists, researchers and engineers have contributed to the world's largest science experiment at CERN.
"The visit is also a great way to recognise the work of some key individuals, such as Dr Lyn Evans, the man who switched on the LHC back in 2008, and who, as project director at CERN, was instrumental in making sure the LHC went live."
The LHC on Tour exhibition is open to the public daily until Sunday.