Meow meow posted to users, BBC Wales inquiry shows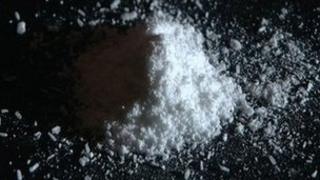 Drug dealers based overseas are posting potentially lethal illegal drugs to users, BBC Wales has found.
Mephedrone, also known as meow meow or MCAT, has become more popular in Wales than anywhere else in Britain, since it was made illegal two years ago.
Week In Week Out went undercover to expose how the drug is getting onto the streets via online dealers.
The programme was offered wholesale quantities of the drug, which is enough for thousands of street deals.
One online dealer boasted how regular shipments of mephedrone - classified as a Class B substance - are being sent to the UK.
The programme ordered a small quantity of mephedrone online and within a week, a white crystal-like powder arrived from China disguised as a food supplement.
But Dr Alun Hutchings, head of Cardiff and Vale University Health Board's toxicology laboratories at Llandough Hospital, said the powder, enough for ten hits, could kill if used as a food supplement and if taken all at once.
Week In Week Out examines the human cost of the mephedrone trade on the streets and meets users and ex-users who warn the drug is having a devastating impact in Wales.
Rachel Wood, 20, became addicted and ended up homeless and on the streets of Newport, where she and others were easy prey to dealers.
She said: "They try and make out they are doing you a favour. More than anything they always say 'oh, do this - we'll do two for this price and we'll do it as a favour for you and be your friend' up until a time you've got nothing.
"When you owe them money, they'll make sure they get the money, no matter how they get it. But they know that you'll keep going back."
She said: "You see young kids now, 13, 14 on it, but they think it's all right because it was legal at one point."
She is convinced that if she had not stopped taking it, the consequences could have been dire: "I would be dead by now if I was still on it."
At Morriston Hospital, Swansea, accident and emergency consultant Mr Michael McCabe said staff had been attacked by users who had no idea what they were doing under the influence.
Neurological problems
He added: "We'd have to say that this drug is probably worse in some ways, in terms of the violence, than some of the other drugs like cocaine and heroin."
He said mephedrone users had shown a range of neurological problems.
"These are people who are fit and healthy - in fact people who have never come across the radar in terms of drug abuse in terms of agencies the police or the NHS.
"We don't know what the long-term effect is going to be."
In July 2012 the drug was linked to the death of David Thomas, from Barry, Vale of Glamorgan, who died after spending two days on a life-support machine.
His sister Nicola is calling for the drug to be re-classified.
She said: "I think when it comes to MCAT, 'fert' or whatever they call it, it should be an automatic prison sentence and if they don't end up doing this they ain't going to stop it."
Supt Rhiannon Kirk, of the crime task force Operation Tarian's regional intelligence unit, says police have heard of dealers offering children "tasters" of the drug for as little as £1.
She told the programme: "There's a real ruthlessness about this that is to exploit children and to get people hooked so that they are then their market for the future.
Week In Week Out is on BBC One Wales on Tuesday 27 November at 22:35 GMT