Substance abuse nurse Louise Poley wins first RCN award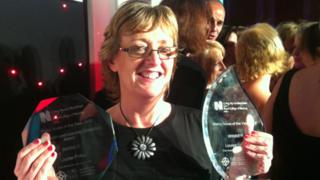 A substance misuse mental health nurse whose work has "changed lives" has won Wales' first nurse of the year award.
Louise Poley beat off contenders in eight other categories to land the Royal College of Nursing's top prize.
Ms Poley, who qualified in 1991, is a consultant nurse at the University of Wales Hospital, Cardiff, and has worked in Cardiff and the Vale of Glamorgan.
She was presented with the award at a ceremony held at Cardiff City Hall on Wednesday night.
'Significant work'
The RCN Nurse of the Year judging panel praised her saying: "She is a champion in a difficult area and the panel were very impressed.
"Louise goes over and above her role to help 'the forgotten population'".
The award nomination said she has "undertaken some significant work with the homeless", working with district nursing colleagues, councils and charities to to ensure they had timely, professional care "within their own environment".
RCN Wales director Tina Donnelly said: "Drug and alcohol addiction remains a very serious problem in Wales despite the reduction in the number of drug misuse related deaths in Wales last year.
"Through her vision and ambition to drive forward change, Louise is committed to making a direct difference for this marginalised group."