Ash dieback found at Llanwern High School in Newport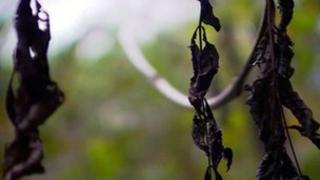 A disease which kills ash trees has been confirmed at a school in Newport, taking the total number of cases in Wales to eight.
Ash dieback was found in a new plant in the grounds of Llanwern High School.
The plant had come from a nursery in north Wales.
The disease has been confirmed by the Department of Environment, Food and Rural Affairs and Newport council said action was being taken to prevent the disease spreading.
The council said it continues to take the health and care of trees "very seriously" and it had tree management plans in place to identify and deal with any problems.
Forestry Commission Wales (FCW) said prior to the latest discovery in Newport, Ash dieback had been discovered in seven newly-planted sites in Wales.
The first case was confirmed in a private woodland in Carmarthenshire earlier this month.
It has also been identified at five sites in the Wentwood and Wye Valley, and at Glynllifon College, in Gwynedd.
FCW said the young trees on these sites had been destroyed as a precautionary measure.
Chalara dieback of ash is caused by a fungus called Chalara fraxinea.
Some scientists warn the outbreak has the potential to devastate the UK's population of 80 million ash trees.