Hadron Collider physicist Lyn Evans calls for science graduates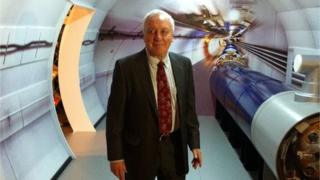 The physicist leading experiments at the Large Hadron Collider (LHC) says Wales needs more science graduates.
Speaking at an exhibition in Cardiff Bay, Dr Lyn Evans praised a plan by the Welsh government to attract the finest scientific minds to Welsh universities.
But he said school science teachers needed more support.
Aberdare-born Dr Evans is the head of the LHC in Geneva where scientists this year made a breakthrough in the hunt for an elusive particle.
By accelerating particles to high speeds and studying their collisions, scientists at Cern (the European Organization for Nuclear Research) can use the collider to recreate conditions similar to those that existed billionths of a second after the Big Bang.
Visitors to the Welsh assembly in Cardiff Bay have a chance to walk through a replica section of the "atom-smasher" at an exhibition in the Senedd building.
Next year the LHC will be temporarily shut down so the public can see the real thing.
Dr Evans, who spoke at an event in the Senedd to showcase the work of the LHC on Thursday, said: "There has been a big upsurge in university entrants in science in Wales.
"It's needed, we know it's needed and we do our little bit to help.
"Wales needs more science graduates - and not necessarily only graduates but technically-orientated people. I think hi-tech industry is going to be essential to the prosperity of Wales in the future and to attract them we need more scientists."
He defended the public investment in the LHC project, saying: "The return in terms of scientific output, training of young people, exciting young people, international collaboration, for me is enormous.
"So I think that these kind of international collaborative institutes are really essential for the future."
He added: "We have to be answerable to the public. We do consume public funds to do our work."
He applauded a £50m fund set up by the Welsh government to encourage leading scientists to work at Welsh universities.
"I think that's all going to help. I would like to see them doing more to support our real important asset, which are our teachers," he said.
"An inspirational teacher is absolutely worth their weight in gold. My inspirational teacher actually was a chemistry teacher, but I changed after one year to physics."
In the summer scientists at Cern claimed the discovery of a new particle consistent with the Higgs boson - the subject of a 45-year hunt to explain how matter attains its mass.