Flooding: Glasdir estate residents promised answers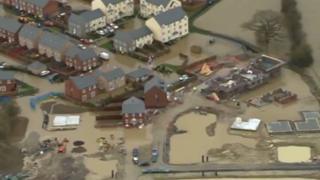 Denbighshire council says it wants to be as open as possible about why a newly built housing estate was flooded earlier this week.
The authority has begun an investigation into what went wrong at the Glasdir estate in Ruthin.
Residents say they were told the chances of flooding were once in 1,000 years.
The estate is one of several places in north Wales devastated by floods on Tuesday.
In St Asaph, hundreds of properties were deluged when the River Elwy burst its banks and a woman died in her flooded home.
On the Glasdir estate, the flood water has subsided but has left behind many homes with bare concrete floors stripped of carpets and furniture.
Residents are now asking whether enough safeguards were put in place to stop flooding when the estate was built.
Ten years ago there were no houses on the site and some are still being built.
The Welsh government-owned land was bought by developer Taylor Wimpey, which says it was told flood defences were already on site.
Planning permission for the estate was given by Denbighshire council.
Resident Jade Whewell said: "I think everybody has rallied around but I think everybody who lives on the estate wants some answers to what has happened.
"Who is responsible? Is it the council? Is it the builder? We just want some answers.
"I've got some faith that people will come back with some answers. They've been taking email addresses to feed whatever information goes in [and] feed it back out."
The council and the Welsh government have both promised they will be looking into what went wrong, as well as trying to help people clean up.
Environment Agency Wales is also investigating the cause of the flooding.
'Recriminations'
Denbighshire council cabinet member Councillor David Smith said: "Christmas is coming up now in a month's time [and] there are loads and loads of children both here and in St Asaph who are desperate. That's my priority.
"Recriminations - there's plenty of time for that. I've started an investigation, it will happen.
"Results will be shared with everybody concerned but I will say it again and I say it to everybody - people come first."
Support from the council includes help such as free childcare this weekend for people in Ruthin who have been affected by the floods so they can continue clearing up.
The council has also provided rest centres over the past few days.
They are being wound down now and replaced by one-stop shops offering support and advice, with one on the Glasdir estate itself and another in St Asaph.
The council has also asked people to stop donating clothes and toiletries because it has more than enough.
It is appealing for anyone who wants to help to do so by donating money to the emergency funds set up by St Asaph City Council and Ruthin Town Council.