Wales weather: Warning of icy roads in north and mid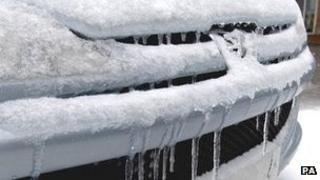 A yellow Met Office warning for ice remains in force for the Welsh road network on Wednesday.
Forecasters say a cold, crisp day across much of the country could mean untreated roads, especially on higher ground, could pose a risk.
The warning for mid and north Wales remains in force until 12:00 GMT.
However, Wales will escape snowfalls that have hit parts of south-east England, forcing the closure of runways at both Stansted and Luton airports.
BBC Wales weather presenter, Behnaz Akghar said: "We're in for a cold and crisp day. The main thing you need to be aware of is ice risk. Do take care on untreated surfaces.
"There should be less of a risk by the afternoon."
The forecast for the rest of Wednesday is for a largely dry and sunny day, but feeling cold with some showers in the west and potentially wintry over the hills.
However, it will cloud over again on Wednesday evening into Thursday, with temperatures in some areas dropping to around -4C (25F).