Taser: Amnesty concern at differing Welsh police use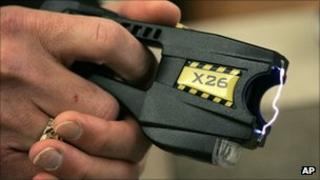 The chances of being Tasered could depend on where people live as police are interpreting the rules differently, claims a human rights group.
Amnesty International says some forces could be using it more than others.
January to September figures show Gwent Police used Tasers the most of the four Welsh forces, but North Wales was not far behind despite much lower rates of violent crime.
Police say all officers have the same training which is constantly monitored.
The Association of Chief Police Officers (Acpo) guidelines say Tasers should be used to "control and neutralise a threat" but that the decision to use one is up to an "individual officer".
Amnesty says this is too vague and means the chances of being Tasered in Wales could differ from force to force depending on how they interpret the guidelines.
"There are a number of differences between different police forces in Wales," said Oliver Sprague, Amnesty's director for arms control and policing.
"In similar areas you would expect, if everybody was applying the rules in the same way, the use of Taser would be consistent, but it's not, which does raise a concern that there is a difference in interpretation."
Amnesty said that if the current rules were clear enough, the number of people Tasered would broadly follow levels of violent crime. However, the BBC has obtained figures for Welsh forces, and this does not appear to be the case.
Figures for last year show Gwent Police experienced the highest amount of violent crime, fired a Taser 22 times, and have consistently used it at that rate for the past three years.
South Wales Police experienced less violent crime, and used a Taser 17 times. North Wales had a lower level of violent crime than both South Wales Police and Gwent, but used it 18 times.
'Appropriate checks'
Dyfed-Powys, the smallest force with the lowest amount of violent crime, fired it nine times.
The Police Federation wants to treble the number of officers using Tasers in the UK, but campaigners want appropriate checks before such a large expansion.
Opponents claim the powerful electric shock from a Taser has contributed to over 500 deaths in America.
Gwent Police said their officers who use Tasers were specially trained in line with national guidelines.
"Taser provides police officers with a method of protecting themselves and the public in a way that is less lethal than conventional firearms," Gwent said in a statement.
"The mere presence of Taser acts as a deterrent during an incident involving a potential offender and allows the officer to respond with minimal risk to the offender, public or the officer and diffuse a potentially dangerous situation quickly.
"Officers who have the use of Taser are specially trained in line with national guidelines and each incident is treated individually, they risk assess the situation in terms of the danger posed before deciding whether the use of Taser is appropriate."