Shisha tobacco sold to under-18s, BBC X-Ray investigation finds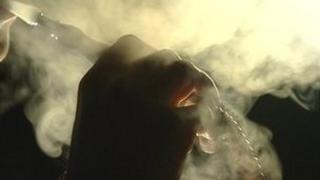 Welsh businesses are selling harmful shisha tobacco to under-18s, a BBC Wales investigation has revealed.
The team from the X-Ray programme found a number of shisha cafes operating in Wales, particularly in Cardiff.
The cafes are increasingly popular with young people who visit them to smoke flavoured tobacco, burned with charcoal and inhaled through a water-pipe.
Four out of five cafes in Cardiff visited by the programme sold the tobacco to a 16-year-old volunteer.
Traditionally, shisha smoking has been part of the culture in many Arab countries. Flavours include apple, mint, watermelon, cola and bubblegum.
However, Dr Mike Knapton, associate medical director of the British Heart Foundation, warned that shisha smoking can be very harmful.
"If shisha is smoked over the course of an evening we estimate one session is equivalent to smoking 100 cigarettes - a very significant amount of tobacco smoke," he said.
Five years ago, new laws were introduced to give the Welsh public more protection from the harmful effects of smoking.
The Smoke-free Premises etc. (Wales) Regulations 2007 banned smoking in public places which are enclosed or substantially enclosed - more than 50%. In the same year it became illegal to sell tobacco to young people under the age of 18.
Despite this, two shisha cafes in Cardiff have been prosecuted for allowing smoking indoors.
In order to find out whether businesses were now complying with smoking legislation, X-Ray carried out secret filming in Cardiff where there are about a dozen shisha cafes.
The team visited five of the most popular cafes.
In four of them, shisha was served to a 16-year-old volunteer and all five premises allowed smoking in an area which appeared to be enclosed.
Both offences carry maximum penalties of £2,500 and local authorities are responsible for ensuring that businesses comply with smoking legislation.
Julie Barratt, director of the Chartered Institute of Environmental Health Wales, said she was disappointed by the results of X-Ray's investigation and felt that councils should take action.
"There is nothing special about shisha that takes it outside the controls that exist in law," she added.
"This shouldn't be happening."
The programme contacted all five cafes. Three responded and apologised for selling shisha to a minor. One has now changed the structure of its smoking area.
X-Ray will pass on its findings to Cardiff council.
Watch the full story on X-Ray on BBC One Wales at 19:30 GMT on Monday, 10 December.