Gay marriage plan 'barking mad' says Tory MP David Davies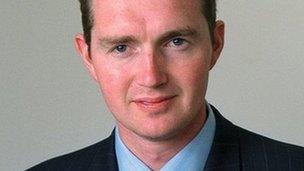 A Conservative MP says UK government plans to allow same sex marriages are politically "barking mad".
Monmouth MP David Davies said the party risked losing a "large number of very loyal activists" if it went ahead.
The prime minister wants churches in England and Wales to be allowed to conduct same-sex marriage ceremonies.
But Mr Davies said he rejected the notion that David Cameron would be "carried shoulder high back into number 10 by Stonewall activists".
Ministers will reveal their response to a consultation this week. MPs will be given a free vote on the issue.
David Cameron's proposals have angered many Tory MPs, with up to 130 members reported to be opposed to the change.
When the Westminster government published a consultation document on same sex marriage back in March, it specifically excluded the idea of ceremonies in churches or other religious buildings.
It has now changed its mind and a formal announcement will be made this week.
The government says it is happy for religious groups to host same sex weddings if they want to, while insisting that groups who do not want to cannot be forced to.
A group of senior Conservatives, including Education Secretary Michael Gove and London Mayor Boris Johnson, have signed a letter to the Sunday Telegraph supporting the proposal.
But speaking on BBC Radio Wales politics show Sunday Supplement , Mr Davies said he was worried about plans to hold same sex weddings in church.
Mr Davies said: "If there are any sort of areas where there isn't full equality with married couples then I'd be more than happy to support making changes to civic ceremonies, so I really don't know why we need to go ahead with this at all.
"I think most people are very tolerant and have no problem at all if people are gay but, and I hate to say this in a way because I expect it's going to cause controversy, but I think most parents would prefer their children not to be gay, knowing most parents want grandchildren if nothing else."
Mr Davies said he was not sure if the UK government could guarantee that churches would not be forced to hold gay marriage ceremonies because so much law was now made by judges in places like the European Court of Human Rights.
"What I'm concerned about is what we were originally given a consultation on, and that is having gay marriage recognised by law which opens to door to all churches being forced to do that," Mr Davies said.
"It changes the way that sex education is going to be taught in schools.
"It's going to have an impact on teachers and I think it goes against what a lot of people feel very strongly about, particularly within the Conservative Party.
"There is a political calculation here, at some level, that this is going to be good and if we go ahead with it David Cameron's going to be carried shoulder high back into number 10 by Stonewall activists, and it simply isn't going to happen.
"What is going to happen is that we're going to lose a large number of very loyal activists who've gone out and campaigned for us over the years and who don't like this idea, so politically it's barking mad."
Mr Cameron said on Friday he was a "massive" supporter of marriage and did not want gay people to be excluded from a great institution.
The Church of England and Roman Catholics, among other denominations, have voiced opposition to same-sex marriage.
But some religious groups, including Quakers, Unitarians and Liberal Judaism, are in favour of gay marriage and are thought likely to apply to be allowed to stage ceremonies.
Related Internet Links
The BBC is not responsible for the content of external sites.