Drug decriminalisation backed by Welsh agency Cais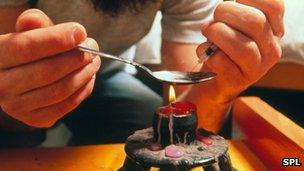 The head of a Welsh drug and alcohol agency says only decriminalisation will help win the war on drugs.
Clive Wolfendale, chief executive of Cais, said power needed to be taken away from drug dealers and producers.
His comments were made as the UK government was urged by MPs to consider a system of drugs decriminalisation pioneered in Portugal.
Portugal does not always prosecute people found with small quantities of illegal drugs.
The Commons Home Affairs Committee said it was impressed with the approach to cutting drug use and also asked ministers to monitor the effects of cannabis legalisation in other parts of the world.
The Home Office rejected its call for a royal commission on UK drugs policy, saying that was "not necessary".
Mr Wolfendale said the UK's current approach to fighting drugs was a "national disgrace".
"And the reason is, we persist in placing our whole drugs strategy in the hands of the producers and the dealers and that happens in prison as much as it does in prison as it does in society," he told BBC Radio Wales' Good Morning Wales.
"This report provides a welcome opportunity to reflect on that I just hope somebody takes notice.
"You have to remove the incentive for people to produce and deal drugs and if the market is regulated and the punishments aren't there then the incentive is removed for people to make millions and billions selling drugs into this country."
He said the government has spent too long focused on dealers and not victims.
"We have to take the drugs market out of the hands of the dealers and the producers," he said.
"It isn't going to go away - it needs responsible management and that can only be done in this case by government, through the health services and the enforcement services working together overall to try and prevent people getting involved in drugs and then offer proper treatment solutions when they sadly become involved."
An inmate from the Hafen Wen detox centre in Wrexham told BBC Wales it was easier to buy drugs in prison than it was on the outside.
"Just the amount of people that are in prison and the carelessness of the prison officers in prison may be, you know, letting it come in," he said.
During the inmate's first prison term, he was given paracetamol to fight his withdrawal symptoms.
"Obviously opiates and paracetamol are just not the same," he said. "All the way through my prison sentence I had a habit, which is an addiction, all the way through, every single prison sentence - and I've done seven."
The inmate said he turned a corner eight weeks ago when his haemoglobin levels plummeted, he became anaemic and needed a blood transfusion.
"The doctors actually said I'm a miracle to be alive," he said.
He said the level of care in prisons for inmates with addictions was poor.
"They just put people in detoxes that don't want to come off drugs," he said. "You know, I found it hard to get into a detox up until I got this illness - it was only the illness that got me in."
Related Internet Links
The BBC is not responsible for the content of external sites.