Plea for old-style police helmets for Gwent force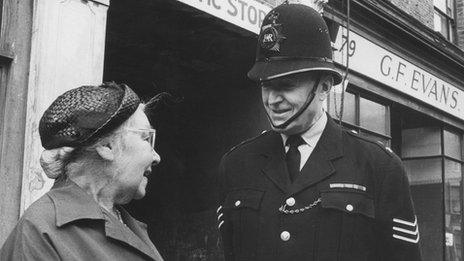 More than 30 years after it fell out of favour, police constables on the beat in the Gwent force area could soon be sporting the traditional custodian helmet once again.
During his successful campaign for the role of Gwent's Police and Crime Commissioner (PCC), former police officer Ian Johnston says calls for its reintroduction were a constant theme on the doorstep.
Whilst the tall policeman's hat remains part of the formal uniform for all constabularies in England and Wales, day-to-day it has largely been abandoned in favour of the more practical flat cap.
However, Mr Johnston has asked senior officers to investigate the practicalities of its more widespread use, in order to distinguish police from the plethora of other uniformed officials on the streets.
Mr Johnston said: "When I was out campaigning, many people said that sometimes they couldn't recognise police officers, and because they don't tend to wear head gear they thought they were council workers."
The initiative has been welcomed by the Police Federation, which fears the lines are being blurred between PCs and Police Community Support Officers (PCSOs).
However, the federation's Gwent spokesman Jeff Mapps warned that any police issue helmet needed to be fit for purpose.
"I agree 100% with Mr Johnston. It's incredibly important to the public's confidence in us that we're instantly recognisable."
"The custodian is an icon of British law enforcement and will set officers apart from security guards, traffic wardens and PCSOs."
"But the custodian fell out of regular use because it's no-longer up to the job, so if it's to make a return, it needs to be in a form which is safe, practical and comfortable."
Gwent Police's Deputy Chief Constable Jeff Farrar said in a statement he would be "happy to address Mr Johnston's concerns".
Mr Farrar added: "We have recently published a uniform regulation and dress code which all officers and staff have access to. This helps to remind them of the standards to which they must adhere.
"This can and does have an impact on our ability to carry out our work effectively.
"I would be happy to discuss any concerns or feedback the commissioner might have in regards to officers' appearance."
The return of the custodian has been encouraged by former commander of police in Cardiff and current Millennium Stadium manager, Gerry Toms.
He says that senior officers need to start getting used to such public-driven initiatives.
"Nobody who's ever worn them likes the custodian. I couldn't stand it! It offers no real protection, and as soon as you start running it falls off anyway," he said.
"But it's not about what we want, it's about what makes the general public feel better.
"Like it or not, PCCs have the legitimacy of speaking for the public, and as such suggestions like this need to be taken seriously.
"In a time of budgetary constraints and fewer officers on the ground, it makes perfect sense to make those policemen who remain as reassuringly identifiable as possible, particularly for older people who fear crime the most and who are less familiar with the variety of similar uniforms about on the streets today."
Related Internet Links
The BBC is not responsible for the content of external sites.