Census 2011: Jedi, love, and Antarcticans in Wales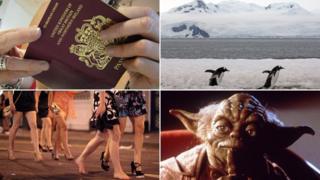 The portrait of Wales drawn from the 2011 census is an important tool for all kinds of reasons - but it can be the intriguing, odd, quirky and unusual facts which add real colour.
Who knew, for instance, that Wales has one resident who was born in a really cool place: Antarctica, home to many of the world's penguins?
And while the headline figures show that Wales has the highest proportion of people in the UK with no religion at 32%, there is one faith that is adding members.
A stellar total of 8,259 people say they are a Jedi knight, following the lead of Yoda from Star Wars.
So here are some more of the intriguing nuggets about life in Wales thrown up by the results:
Faith: who's up, who's down
As well as those Jedi knights, Wales also has 3,448 pagans, 2,691 spiritualists, 243 druids, 83 witches, 740 wiccans, 93 Satanists, 91 heathens and 57 scientologists. There are just 23 free thinkers.
There are 815 people who listed themselves as humanist.
But while 25.4% of people in Flintshire say they have no religion, it is also Wales' most Christian local authority area. And the percentage of those following the faith just happens to amount to 66.6% - coincidentally, a significant number to some of those above.
Love, romance and divorce
As one of the highlights of the Christian calendar approaches, Cardiff, like towns and cities across Wales, is gearing up for the Christmas party trade.
But perhaps Cardiff is the best place to head for those looking for romance, as 45% of people in the city are single, compared to just 26% in Monmouthshire, where a majority of people (54.1%) are married.
Newport has the most people by proportion in a same-sex partnership (0.4%)
People in Neath Port Talbot, Conwy and Blaenau Gwent are all more likely to be divorced, sharing a rate of 10.7% of the population).
Travel: home and abroad
A total of 28,307 households have access to four or more cars or vans. Powys has the largest domestic motoring fleets, by proportion.
But travel abroad is not an option for almost a third (30%) of the population of Blaenau Gwent, which has the highest proportion of people without a passport. The average for England and Wales is 16.9%.
The area's Labour MP Nick Smith said the town is now in post-industrial doldrums: "It's all about disposable income. These are hard times and foreign travel comes down the list of priorities."
The substantial proportion without a passport does not signify lack of curiosity for the outside world, he adds.
"People here would jump at the chance of a mini-break to Rome, especially if the rugby's on. But these are hard times for people."
Health: Age and caring
A lack of money does not stop 12% (370,000) of people living in Wales from being an unpaid care giver. The figure is higher by proportion than in any English region.
A total of 23% of the Welsh population said their activity was limited by a long-term health problem or disability in 2011.
The figures may also be partly be explained by the older age profile of the Welsh population.
The median age of the population in Wales is 41 - two years older than the median age of 39 across England and Wales in 2011.
The percentage of the population in Wales aged 65 and over was the highest seen in any census at over 18%, a total of 563,000 people.
This was an increase of 57,000 people in this age category since the 2001 census.
Population
The 2011 census data shows that in total, 29,017 people (0.95%) in Wales said they were born in the new EU accession states in eastern Europe.
There are just over 18,000 Polish-born people living in Wales, according to the 2011 census, 1,495 Romanian-born people and 1,353 people born in Lithuania.
Wrexham has the highest proportion (2%) of Polish-born residents (2,684 people). In comparison, just 0.1% of the population of Anglesey were Polish born and 0.8% in Cardiff (2,780 - just ahead, in numbers, of Wrexham).
Across Wales, 25,417 people said they were born in South Asia, with 11,874 people born in India, 5,453 in Pakistan, 5,169 born in Bangladesh and 1,325 born in Sri Lanka.
A total of 6,296 people living in Wales said they were born in China and 3,517 were born in Hong Kong.
Cardiff has 1,672 residents who were born in Somalia and 489 born in Australia out of 2,695 Australians in Wales.
Antarctica
The person born in Antarctica now lives in Ceredigion. The census, sadly, reveals no more.