Wales Ape and Monkey Sanctuary: Pair give refuge to unwanted primates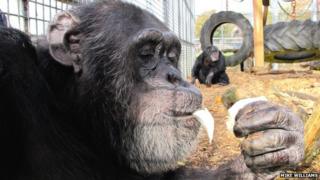 As most people tuck into their Christmas dinner, Jan and Graham Garen will be too busy to feast on turkey - they will be feeding around 80 hungry apes and monkeys.
Christmas Day will be business as usual for the husband and wife team who 14 years ago took in seven chimpanzees that nobody wanted when the Penscynor Wildlife Park near Neath closed.
As a teacher and engineer they had no experience of looking after primates, but they could not bear the thought of the chimps being shot, which would have been their fate.
So they set about turning Mrs Garen's parents' old farm in the Swansea Valley into a sanctuary for the seven 15-stone male adult chimps.
It has been non-stop ever since and holidays are now a thing of the past for the couple.
Instead their days are spent at the Wales Ape and Monkey Sanctuary where they now care for 80 animals, including chimpanzees, gibbons, baboons, macaques, spider monkeys, tamarins and marmosets.
They also care for lemurs, wolves, porcupines and farm animals.
"Our life changed dramatically after we took in our first chimps," said Mrs Garen, who had been a geology and geography teacher in London before moving back to her parents' 35-acre hill farm near Abercrave, which is within the Brecon Beacons National Park.
"It was like having seven children. Now, of course, we have over 80 and they are all like our children.
"It is hard work but so rewarding when you see how happy they all are as they have all come from awful situations."
The Garens did not expect to take in any more animals after the first set of chimps but when they were contacted about some others that needed a home after a zoo closed in Northern Ireland, they could not say no.
Nor could they leave a group of abandoned baboons they found at the zoo when they went to pick up the chimps.
"Word has spread and we now have animals from all over Europe.
"These are animals that have been in captivity and nobody else will take them. They face being put down if we don't have them," said Mrs Garen, adding that the sanctuary does not breed any animals.
They have rescued primates from zoos that have closed, along with those used in laboratory tests and even some that have been found stowing away on ships that dock in Britain.
Mr Garen has converted a Mercedes Sprinter van into a rescue ambulance, using experience he gained as an engineer who designed armoured vehicles in Afghanistan and Serbia.
He has driven with a friend all over Europe and the Middle East, including to Beirut, Bahrain, Portugal and Bulgaria, to pick up unwanted chimps and monkeys they are contacted about.
"They had to stop overnight when they went to Bulgaria and they had to sleep in the ambulance with the chimps," added Mrs Garen.
"Graham slept on the roof of the crates [containing the chimps] with a sleeping bag."
The sanctuary does not receive any funding from the UK or Welsh governments, local council or National Lottery.
Instead, it has become a charity and relies on generous donations from supporters, along with the entrance fee paid by its 30,000 visitors a year.
The animals are so popular with visitors that many now have their own fan pages on the social network site Facebook and they are sent gifts from all over the world.
"One of our chimps, Nakima, likes to wear shawls and cardigans," said Mrs Garen.
"She has dozens. People post them to her from as far afield as Australia."
She said that every single chimp is different and "very, very individual".
"Another character is Ronnie who does sign language," she said.
"He tells people to take their coats and hats off. He was taught it by the keepers at the zoo where he used to live in Germany before he came to us.
"He rubs his hand across his head to get people to take their hats off, he rubs his eyes to get them to take their glasses off and he goes up across his tummy to get them to take their tops off.
"It's so funny as people do what he tells them and they are stood there freezing."
Two of the original seven chimpanzees are still alive and being cared for at the sanctuary - Twmi, who is 29, and his brother Fergus, who is 28.
The animals can live until they are about 50, Mrs Garen said, and the sanctuary's oldest chimp is currently Tubman who celebrates his 47th birthday in January.
The couple sought advice from experts before setting up the sanctuary and are supported by a local vet. They also had to apply for a dangerous wild animal licence.
Mrs Garen admits that the animals, particularly the large adult chimps, can be "scary" and that carers need to have a "healthy respect" for them.
"They are very strong and nobody goes in with them," she said.
Staff feed the animals first thing in the morning, and they all have a similar diet of seeds, fruit and vegetables, along with treats of boiled eggs and yogurts.
The rest of the day is spent cleaning out their enclosures before getting the primates to bed at about 5pm.
"The chimps will sleep for hours if you let them - they're like teenagers," Mrs Garen added.
"But all the others are up early in the morning and want to get out to play straight away."
As for Christmas, she added: "We'll probably sit down to finally have our dinner in the evening. Until then we'll be busy.
"But we do enjoy it. We just try to ensure that the animals' lives are as enjoyable and stress-free as possible."