Mold trade boost hope with Daniel Owen Square overhaul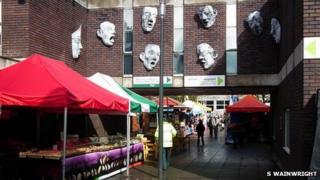 A Flintshire town centre is planning to spend £100,000 to revamp its main square as a public venue to host events and attract more visitors.
The plan in Mold has been backed by those who say towns need to find other ways to get people to visit.
Meanwhile, Wrexham town centre bosses say they want to use special events to promote the town.
Earlier this month the town hosted a Christmas Victorian market which brings in thousands of extra people each year.
Consultants have been commissioned to draw up plans to make Daniel Owen Square a focal point for Mold.
Town centre manager Dave Hill says £100,000 has already been secured in European funding although more may still be needed.
Martin Jones, from Mold Business Forum, believes hosting events will help attract more people to the town.
"We have to sell the town [as a whole] as everyone has a stake in it," said Mr Jones who runs Vaughan Davies clothes shop.
"I tend to think that business comes from everywhere.
"If the cafe is doing well the owner may come to buy a shirt."
'Fragile'
Alex Jones, who chairs Wrexham's night-safe group of bars, pubs and clubs, says he was particularly busy when the town hosted its annual Christmas market last week.
He says town centres need to reinvent themselves with the rise in people shopping online.
"We have to look at ways to encourage people to come into town."
Mr Jones, who runs Wrexham's Banks bar and bistro, says the town's annual Victorian Christmas market brings in thousands of extra visitors during the day and he wants to see more monthly events.
Wrexham council's town centre manager Isobel Watson said: "Specialist markets are very popular and attract people to the town centre.
"Wrexham County Borough Council will continue to help promote Wrexham through high class events such as this."
Mold extended its popular annual weekend food and drink festival over several more days in September with local restaurants hosting a food trail in the run-up to the event.
It also recently hosted its first NovemberFest beer festival which town centre manager Mr Hill described as a success.
Mold has also established an annual October arts festival in honour of town square namesake, the Welsh author Daniel Owen (1836-1895) whose statue watches out over the adjacent Daniel Owen Precinct.
Mr Hill says Mold has plans to use the square as an entertainment venue after securing money for an overhaul of the paved area.
Consultants are expected to showcase their research, findings and ideas next spring.
Around the same time plans to build a Sainsbury's supermarket could be back on the planning agenda as the company bought the town's former Kwik Save site in 2011.
Sainsbury's development surveyor Jo Hawley said: "We have recently had further discussions with Flintshire County Council with a view to beginning a public consultation programme early next year ahead of submitting a planning application for a new Sainsbury's food store."
It is a year since BBC Wales asked traders and business leaders in Mold and Wrexham how they were coping during the continuing credit crunch.
Last year Mold was bucking the trend with no empty shops.
This year it is still below the UK average although a homeware shop and a florists recently closed, according to Mr Hill.
He describes the situation on the high street as "fragile".
However, Martin Jones calls business at his clothes shop "consistent" with trade balancing out over a longer period of time although he admits footfall is currently down.
He imagines trade could still pick up this month and suggests that people are waiting for their final wages of the year to complete their Christmas shopping as increasing costs mean people have to make their money go further.
In Wrexham, Alex Jones at the wine bar says he is "optimistic" about the year ahead.
But reflecting on the past year he admits that "anyone keeping their head above water" is doing well.
He feels community leaders should look at things like waiving or reducing car parking charges at certain times of year or using other means to attract people to town.
In Flintshire, the county council has agreed to free Christmas parking after 15:00 GMT at its pay and display car parks in Mold and Holywell until 31 December.
It is working with Mold Town Council on realising the plans for Daniel Owen Square.
Peter Macfarlane, Flintshire cabinet member for regeneration, said: "This is an exciting opportunity to bring the square up to date and raise the profile of Mold.
"I hope the square will be able to play more of a role to encourage and attract more visitors to shop and stay in the town," he said.