School banding: New Wales performance scores to be revealed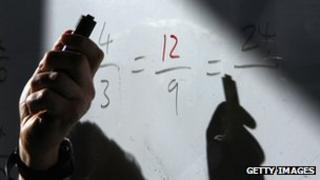 Secondary schools in Wales will again be put in performance bands when scores are published later on Tuesday for such factors as GCSE results and attendance.
It is the second year the Welsh government will reveal the bands measuring schools against each other as part of an attempt to raise standards.
Ministers insist banding is not meant to name and shame schools, and it is not as "crude" as league tables.
But one union said some lowest-ranked schools feel they have lacked support.
The Welsh government says the system is supposed to highlight which schools need the most help.
A formula is used to produce a score for all 219 state secondary schools in Wales.
They are then placed into one of five bands, with the best performers going into Band 1 and the worst into Band 5.
Factors such as attendance rates, GCSE results and whether pupils do as well as expected are taken into account.
The system also looks at how many children receive free school meals to recognise family backgrounds.
It is designed to reflect whether schools are making improvements relative to each other.
That means a school could move down a band even though its results have stayed the same. Positions could change because other schools have made bigger improvements.
Last year schools in Bands 4 and 5 were offered £10,000 to improve their performance. The Welsh government has not yet decided whether extra funding will be available this year.
Banding for primary schools has been delayed until 2014.
'High quality' data
David Reynolds, professor of educational effectiveness at Southampton University and a senior policy advisor to Welsh ministers, said it is no longer an option for governments to keep performance data to themselves.
He said: "All data systems have defects. On the other hand, I do not believe we should move to a system where we try and keep performance data from parents. If we did, it would be out there from Freedom of Information within a day or two.
"Parents should trust our bands because our bands take account of many more factors than would be the case in England.
"Parents should look at this stuff in detail and actually appreciate that we really are trying to have high quality performance data - good data."
David Evans, secretary of teaching union NUT Cymru, said the union fears the system will always prove to be divisive for schools.
"The NUT has no difficulty at all with school accountability and identifying schools that require additional support," he said.
'Far too simplistic'
"However, we see little merit in a system designed to allow the public to draw their own inferences in comparing schools that may be in completely different parts of the country."
Anna Brychan, director of the head teachers' union NAHT Cymru, said that "simply rendering every school's performance in one number" was "far too simplistic".
She said: "There is a difference of opinion about the standard of support that schools have had from local authorities, for example, and I would say that secondary schools in particular - which are affected by banding - do not feel the support has always been there."
She added that £10,000 was not a huge amount for a school's budget. "Something is better than nothing of course," she said.
Matthew Evans, head teacher of Ysgol Gyfun Ystalyfera in the Swansea valley, which was in the highest ranked Band 1 last year, said: "We're right at the early days of banding.
"We really don't know how this is going to impact parents' choice.
"I hope that parents will keep a wide view of what school performance is all about."
A Welsh government spokesman said: "Banding is at the heart of our school improvement agenda. The process is designed to help local authorities support their schools more effectively, raising standards and performance in Wales.
"It is not about labelling, naming or shaming, or creating a crude league table. It is about putting schools into groups to identify which need our support and which we can learn from."