Mathew Prichard receives Prince of Wales Medal for Philanthropy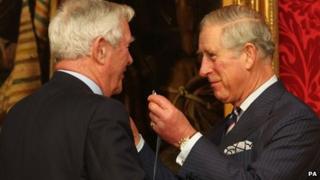 The Welsh grandson of Agatha Christie has been awarded the Prince of Wales Medal for Philanthropy for his support of the arts in Wales.
Mathew Prichard, whose mother Rosalind was Christie's only child, established the Colwinston Charitable Trust in 1995.
It is funded by the royalties from stage play The Mousetrap, which he was given as a nine-year-old boy.
The world's longest-running show, it has just marked its 60th year.
Through his trust Mr Prichard has donated thousands every year to support opera, classical music and the visual arts.
He told BBC Wales he had never calculated how much had been donated, though he said the total amount must have reached at least a million pounds.
Mr Prichard said: "I hope that the enthusiasm and support that we try and give to artists is equally important to the money we give.
"I've been really gratified, and I hope my grandmother would have been gratified, because these people really need support in order to express themselves and make their contribution to society."
The organisations that Mr Prichard has supported include Welsh National Opera (WNO), the National Museum of Wales, Wales Millennium Centre, Sherman Cymru, Sinfonia Cymru and the Gregynog Festival.
Among the trust's most recent donations is a £50,000 grant for WNO's spring 2013 programme.
WNO director of development Alison Dunnett said: "Mathew's philanthropic relationship with the company dates back 20 years and during that time he has helped WNO achieve so much for which we are very grateful, especially during this time of economic difficulty."
However, Mr Prichard said Agatha Christie's career could have been very different.
'Love of the arts'
"When she was young she was a singer, and if you'd offered her the choice when she was young, she would rather have been a singer than an author," he said.
"She encouraged me in my love of the arts - particularly in music and the opera."
Wales Millennium Centre, which has benefited from Mr Prichard's philanthropy, was one of a number of organisations to nominate him for the Prince of Wales medal.
Its director of development, Marie Wood, said: "Mathew has made an enormous contribution to the centre over the past few years.
"One thing that's a common theme throughout everything that Mathew has supported is his passion that everybody can access the arts, and his passion for excellence."
Mr Prichard plans to continue his patronage of the arts in Wales through the Colwinston Charitable Trust.
'Strategic moments'
But he insists the role of philanthropist is more than simply a source of funds.
He said: "This isn't just a question of signing a cheque or spending a couple of hours in a meeting.
"This is a question of trying to work out what makes the arts in Wales tick, and to try and choose strategic moments to intervene, to make it easier for some people to make the contribution they so desperately want to make."