Beachy Head suicide verdicts on Betty and Christopher Gosling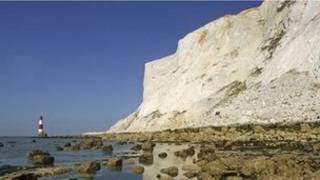 An 81-year-old woman and her son jumped to their deaths off a cliff after his arrest on suspicion of possessing child abuse pictures, an inquest has heard.
The bodies of Elizabeth and Christopher Gosling, 58, of Roath, Cardiff, were found at Beachy Head, near Eastbourne, East Sussex, in March.
A relative told the hearing that Mrs Gosling - known as Betty - and her son were devoted to each other.
Coroner Alan Craze recorded suicide verdicts at the Eastbourne inquest.
Josephine Carroll, Mrs Gosling's niece, told the inquest that in recent years Mr Gosling had been suffering personal problems which she believed had led him to suffer from depression.
Mr Gosling, an NHS information change manager, had been in discussion about a possible change in his position in the days before his death.
He had sent a hand-written letter of resignation to his employer dated 20 March. Their bodies were found the next day.
"He never married, had no children. He was an only child, his mother idolised him, they were very happy living together," said Mrs Carroll.
"He was a very polite and politically correct type of person. They were totally devoted to each other."
Mrs Carroll added: "I couldn't see Betty doing anything like suicide unless something catastrophic had happened and something catastrophic had happened.
"I would have thought for her there was no life without Christopher or if he had been imprisoned there would be no life for her. It's very tragic."
Post-mortem examinations showed both mother and son died of multiple injuries and neither had alcohol or drugs in their bodies.
'Substantial admissions'
Det Sgt David Tye, of Sussex Police, said Mr Gosling made "substantial admissions" during his interview with South Wales Police.
Mr Tye said a risk assessment was carried out when Mr Gosling was released on bail and he was not considered to be a danger to himself.
The coroner said: "I have absolutely no doubt whatsoever that Christopher took his own life. If that's the case I can have no doubt that his mother took her own life.
"She was an entirely willing participant, it's dreadful to think about but that's what I think it was."
The case was referred by South Wales Police to the Independent Police Complaints Commission (IPCC).
Mr Craze asked for South Wales Police to be made aware of his concerns of how suspects are assessed when released from bail.
Following the hearing South Wales Police said it would "await to receive the comment before considering our position".
The 530ft (160m) chalk cliffs at Beachy Head are at the eastern end of the South Downs National Park.