Wales school banding: Leighton Andrews defends rankings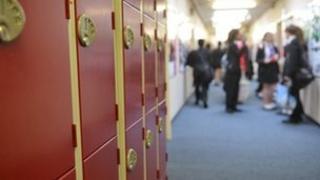 The education minister has defended this year's school banding results, which critics say give a confusing picture of performance.
Some schools have dropped from the top Band 1 to one of the lowest groups while others have done the reverse.
Education unions said the system had been divisive and gave a misleading picture of performance for parents.
But Education Minister Leighton Andrews said schools must constantly improve to better their banding position.
The Welsh government puts secondary schools into five bands based on factors such as GCSE performance and attendance.
The school which had the best score when banding was introduced last year, Ysgol Tryfan in Bangor, Gwynedd, has fallen from Band 1 to Band 4.
Tryfan's head teacher Gwyn Tudur said he "questions a system which allows such a big change".
A total of 10 schools dropped from Band 1 to Bands 3 or 4 while others made big strides up the banding table.
But banding is a relative measure depending on performance of other schools so is not always an indication of major change in a particular school.
The Ucac teaching union said the instability of the system challenged the Welsh government argument that banding played a role in raising school standards.
Mr Andrews told BBC Wales: "The advantage of our banding system over crude league tables - which is what the Conservatives seem to want - is that it takes into account a range of data and gives a rounded perspective on schools and allows local authorities and others to target support.
"The data is very sophisticated and is a much better system than exists in England where the schools are ranked in a league table form and no account is taken over the challenges facing different schools in deprived communities for example.
Constantly improving
"[In England] you have simply a scoring system that doesn't pick up schools that are coasting.
"I understand that teaching unions don't like the use of data but I think parents welcome the use of data to understand how schools really are performing.
"We're determined to drive up performance in schools in Wales and the results that we can see... of what's happened, particularly to schools in Bands 4 and 5, is that performance is going up."
Mr Andrews said schools needed to be constantly improving to improve their banding position overall.
A spokesperson for teaching union Ucac said it did not make sense "to distil complex sets of data into a single, raw figure".
"The banding system does little other than to turn sensible, valuable data into arbitrary and misleading figures," said the union.
"We call on the Welsh government to reconsider the banding system in its entirety, and to call a halt to its plans for introducing banding for primary schools."
A formula is used to produce a score for all state secondary schools in Wales.
The score and banding allow parents to see how their school is performing, relative to others in their area and across Wales.
Factors such as attendance rates, GCSE results and whether pupils do as well as expected are taken into account. The system also looks at how many children receive free school meals to recognise family backgrounds.
The best performing school this year was Ysgol Gyfun Gymraeg Bryn Tawe in Swansea.
Schools in Neath Port Talbot also performed well with six of its 11 schools placed in Band 1 while the rest were in Bands 2 and 3.