Alun Michael: South Wales Police 'short changed by £8m'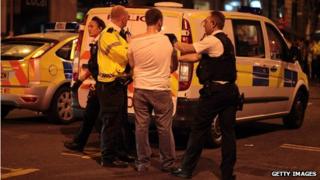 The commissioner for Wales' largest police force says it is being "short changed" by £8m under the funding formula announced by the UK government.
Alun Michael said it was "not right" that policing Edinburgh and London had extra money for that role but his force did not have more for policing Cardiff.
The Welsh government says it would cut its contribution to Wales' four forces by 1.57% in the next financial year.
The Home Office said it recognised funding "remains challenging".
Mr Michael, who was elected to the post last month along with three others in Wales, said the method used by central government for judging how much a police force should be paid in grant worked in "perverse and unexpected ways".
This was despite it taking account of aspects of a police force's work, including the size of the force and the area it has to cover, he said.
The result is, said Mr Michael, some police forces lost money to ensure others had a minimum funding level.
He said: "It's all highly technical and abstruse, but what it boils down to is that the formula says that we should receive about £178m and we be short-changed by the Home Office to the tune of £8m.
"Further to this, the challenge of policing Cardiff, our nation's capital city, is real and significant, and it costs money but it is not reflected in our funding.
'Challenging'
"It's not right to see the Lothian and Borders Police and the Metropolitan Police Service receive additional funding for policing Edinburgh and London respectively, yet South Wales receives not a penny for the additional responsibilities of policing Cardiff."
Local Government Minster Carl Sargeant said: "Police funding is not wholly devolved and the overall police settlement is driven by the Home Office's decisions on police grant.
UK government police minister Damian Green said: "I recognise that the funding settlement remains challenging, but I am confident that PCCs [police and crime commissioners] and forces will continue to drive out waste and maintain the level of service that the public expect."
The funding announcement on Wednesday means police forces will see the same amount of total government funding in 2013/14 that was agreed at the October 2010 spending review.