Black Friday: Festive party night passes smoothly, say police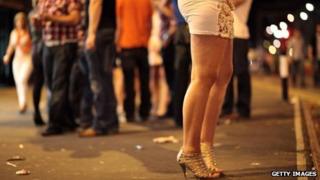 One of the busiest nights of the policing year passed without major incident, Wales' police forces say.
The last Friday before Christmas has been dubbed "Black Friday" or "Mad Friday" with thousands of revellers descending on town and city centres.
But no police force in Wales said it made more arrests than it expected among people partying at Christmas.
Gwent Police said: "Officers were on the whole pleased with how things went."
A total of 34 arrests were made in the Gwent Police area between 19:00 GMT on Friday and 03:00 GMT on Saturday.
The majority of them were for minor public order offences and compare to 52 arrests for the same period in 2011, the force said.
Insp Christopher Haire said: "Police officers and staff were out and about across Gwent as always keeping people safe and enforcing the law.
"Officers were reminding people to think about how to get home safely and where possible nipping problems in the bud before they escalated into more serious incidents.
"Whilst officers did deal with some public order offences the night passed with no major incidents."
South Wales Police, which covers Cardiff and Swansea, said its workload was normal for the time of year.
Posters and advice
A spokesman said: "I don't think it was any more than we expected. I wouldn't say it was quiet but it was no more than we expected."
A spokesman for Dyfed-Powys Police said officers dealt with "nothing over and above the usual jollity".
North Wales Police said there were no major incidents to report overnight.
South Wales Police and Gwent Police reminded young men, in particular, not to lose their temper on nights out over the festive period.
Posters and adverts have been put up in local pubs and clubs in south Wales reinforcing police safety messages, and a short film showing the consequences of drinking too much is on a campaign website: www.donthaveanightmare.org.uk.
Gwent Police and South Wales Police have also been posting crime prevention tips on their Twitter and Facebook accounts throughout the week.