Ystalyfera landslip: Rain halts clear up until Friday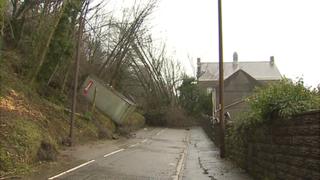 A landslip of thousands of tonnes of rock, soil and trees remains unstable as the wet weather continues, says Neath Port Talbot council.
Thirteen families have now been advised to leave their homes after the hillside moved at Ystalyfera in the upper Swansea valley.
No work will be carried out on the slip until at least Friday.
The authority's environment director John Flower said: "The weather is not helping."
Eleven households had initially been evacuated from properties in the Pantteg area of the village after the slopes moved on Saturday night.
Officials said the mountainside has been noted for landslips for decades, but this landslip is a "dramatic movement" that has seen waterlogged soil come to rest against properties and over around 200m of road.
A shipping container and a white van came to rest hanging over the road, held up by trees.
Conditions on the mountainside are still too difficult for engineers to be begin clearing the road, said Mr Flower.
He said visual assessments were being held daily and the local authority is to hold a review of the situation on Friday.
"We can't contemplate any work on the area at the moment. What we have got there is slurry," he said.
"The condition of the materials is very fluid. The hillside is nigh on inaccessible and in its current condition it's unstable.
"I would not see this situation changing until we get past the festive season."
Some residents have claimed the council should have done more to clear culverts and gutters and said they contacted the authority earlier in the month to warn that the land was becoming unstable.