Talyllyn steam railway in Gwynedd asks for cash from volunteers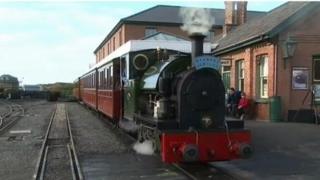 One of Wales' oldest steam railways has appealed for help from volunteers because of a drop in funds caused by falling passenger numbers.
Talyllyn Railway in Gwynedd, which inspired the Thomas the Tank Engine author, was the world's first to be saved from closure by enthusiasts.
But directors say even they are finding things difficult in the current economic climate.
They have written to all their volunteers asking for more money.
The railway has operated since the 1860s out of Tywyn and was saved from closure by its society of enthusiasts in 1951.
A year later, Thomas the Tank engine's creator, the Reverend W Awdry, joined the volunteers.
Quiet times
Original locomotives and carriages have been restored by the enthusiasts, and even the directors offer their services for nothing.
One David Mitchell said: "It has not been a particularly good year. Traffic is down about nine per cent and expenses continue to rise. So we're seeking to improve revenue as well as trying to get more people to come."
The railway believes it can save about £11,000 by running fewer trains in quiet times. It also says there's been a good response from members of the society to its cash appeal.
Mr Mitchell said the Talyllyn railway was like many tourist attractions and many businesses in Wales who are struggling to keep going in a difficult economic climate.
Two alternatives
"Several years ago we undertook a rationalisation. We reduced staff and like all the railways we are looking at how we can save money.
"We have two alternatives. We either get more passengers through the door and that's difficult in this part of Wales, we are quite remote. The other is that we ask for a little more from those who support the railway."
It is not the first railway in Wales to appeal for extra cash. A few miles away from Tywyn, the Fairbourne railway started a crisis fund in 2011 when one of its main donors died.
The Talyllyn railway members already give their time for free to run the railway but do they mind giving their money as well?
"I've got no problem with that," said one.
"The railway's a hobby. When the railway's in such dire straits we all have to help out else we wont have a hobby."
Another volunteer added: "This area is not exactly well off in terms of jobs and tourism is the main industry for this part of the world.
"And we carry 45,000 passengers a year or thereabouts and that brings an awful lot of money into Tywyn."