Antarctic career lands Tudor Morgan Queen's Polar Medal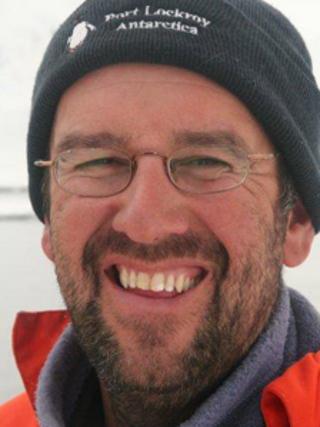 When Cardiff's historic David Morgan department store closed its doors after more than a century in 2005, few thought the retail empire would rise again.
But Tudor Morgan, the heir to the dynasty, is back behind a counter once again - 10,000 miles away in one of the world's most southerly shop at Port Lockroy on Antarctica.
Tudor, 41, runs the post office and convenience store on behalf of the UK Antarctic Heritage Trust (UKAHT), a Monmouthshire-based charity working to conserve historic buildings in and around the south pole.
The trust relies on selling Antarctic stamps and gifts from the shop to the 15,000 visitors who arrive aboard cruise ships each year, in order to fund up to half of their heritage work.
Now in recognition of Tudor's hardy entrepreneurial spirit - as well as almost two decades of scientific research on the continent - he has been awarded the Queen's Polar Medal (PM) in the New Year's honours list.
"I chose to read geology at Manchester University and make my career in Antarctica, rather than go into the family business," he said. "But my father jokes that now I just run the world's most southerly shop instead."
Yet Tudor believes he actually gained many practical skills from working in the David Morgan department store as a boy.
"There were always odd jobs to be done - re-wiring, painting, fixing things - and I would watch and help and pick up these skills, all of which come in really handy when working in Antarctica where you have to be entirely self-sufficient," he added.
The citation for the medal says it is only conferred on those who have "undergone the rigours and hazards imposed by the polar environment, and who have made conspicuous contributions to furthering knowledge of the regions".
Tudor certainly fits into that category.
His first job after graduation was as a researcher for the British Antarctic Survey (BAS) in 1994.
He did not return home for two-and-a-half years, spending two polar winters at the Rothera Research station.
After that, he popped home for six months before returning to Antarctica as field operations manager.
He safely guided scientists across crevasse-filled ice fields, coordinated complex logistical operations into the interior of the continent and led expedition parties into Antarctica's beautiful and pristine mountainous terrain.
But while Tudor says he is thrilled that his work has been officially recognised, he believes that the medal is just "the icing on the cake".
Because for him working on Antarctica is its own reward.
He said: "I grew up with stories of Scott and Shackleton and always dreamt of going south.
"Being thousands of miles away from anyone else, on a continent which is inhospitable to life, is an extraordinary adventure.
"Living and working in the world's last great wilderness and contributing to such important scientific work is a privilege very few get to experience."
"On a crystal clear day with brilliant sunshine glinting on the ice and orcas swimming in the bay, you don't want to be anywhere else on Earth."
If his tale was not extraordinary enough, Tudor could be one of the only people on Earth to find love at the south pole.
His wife Rachel Duncan - who now runs UKAHT from the pair's home in Usk - explains how she's forced to share the man she met restoring one of Captain Scott's huts with a snowy mistress.
"After we got married he retrained in forestry and for a short time worked for Highgrove, where he helped design a merchandise range for the royal estate, drawing on his retail experience from David Morgan.
"But Antarctica is his real passion and he has since returned year-after-year for the UK Antarctic Heritage Trust, designing merchandise ranges for the shop there and also rebuilding the Nissen hut to provide warmer and safer staff accommodation at Port Lockroy."
"Running an Antarctic base is a 24/7 job and you are responsible for the lives and safety of all those working under you.
"It requires patience, self-sufficiency, precision planning, calmness, strength of mind and character, constant energy, fairness and leadership and a great sense of humour.
"Tudor has all these qualities in abundance."