Capt Stephen Healey was 'one of the best' inquest hears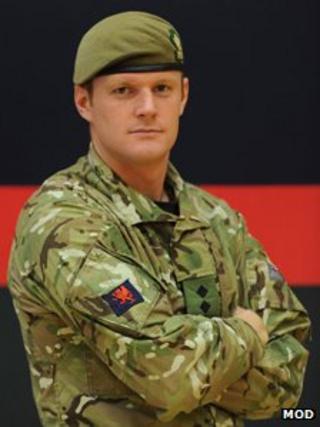 An army officer killed by a roadside bomb in Afghanistan was "one of the best of his generation", an inquest heard.
Capt Stephen Healey, 29, from Cardiff, was commanding his platoon from a lead vehicle when it ran over and detonated the Improvised Explosive Device (IED).
The blast in Helmand Province in May 2012, threw the vehicle into the air, killing the ex-Swansea City footballer.
The coroner recorded a verdict of death by blast injuries on active service.
Capt Healey had survived an IED blast in Helmand Province two years earlier.
The inquest heard he had been an apprentice at Swansea City FC before joining the Army and being commissioned into 1st Battalion, The Royal Welsh (Royal Welch Fusiliers).
The inquest was told on the day of Capt Healey's death, the armoured Jackal patrol vehicle he was in landed on its side where he was sitting.
He died in a Chinook helicopter which was taking him to military hospital.
'Fun to be around'
His Commanding officer, Major Charles Carver, told the inquest: "Professionally Capt Healey was one of the best of his generation.
"Not only that he was gregarious and fun to be around - he was able to get on with anybody."
The inquest was told Capt Healey was protecting a road in the north of the Nahr-e Saraj District.
He and his platoon were on their way to check a canal crossing point on a gravel track.
Driver Lce Corp Ian Lane said: "We crept forward slowly along the track looking for IEDs. The next thing I know I was up in the air.
"We landed down on the passenger side - everyone remained strapped in the vehicle apart from the gunner who was thrown onto the ground.
"It took a couple of seconds to realise what happened.
"I looked and saw signs of injury to Capt Healey and we went automatically into what we were trained to do - give first aid to him.
"But I could see the circumstances were not good."
'Unresponsive'
Medic Lce Corp Brian King told how he was first to reach Capt Healey.
"He was unresponsive," he said. "I tried to talk to him but he wasn't responding in any way.
"He had a broken jaw and he wasn't breathing. There was no pulse."
The inquest heard five more buried IEDs were found along the route where Capt Healey died.
He was mentioned in Dispatches for his outstanding leadership and bravery in the face of enemy fire on his first tour of Afghanistan in 2009.
Coroner Mary Hassel said Capt Healey was well trained and equipped for his task in Afghanistan.
She told his inquest: "He was by all accounts a quite outstanding officer.
"He was aware of the risk of IEDs. He had come across one that morning and it must have been very fresh in his mind.
"But in spite of his best efforts his vehicle hit an IED - and the moment that vehicle hit the IED the die was cast.
"I have heard about really heroic efforts from the medics to try and save Capt Healey but I am sure that nothing could have been done for him.
"The blast was so huge and the injuries so devastating there was no way of coming back from that."
Capt Healey left behind his father John, mother Kerry, brother Simon and girlfriend Thea Davies.
Ms Davies said after the inquest: "Stephen will always be in my heart. I will miss him so much. He was my love, my life and my everything.
"Now he rests in peace. He was living the life he wanted to do with his men."
His family issued a statement saying: "Stephen was all you could wish for in a son, brother, uncle and friend.
"He will be sadly missed by us all. He managed to do more in his 30 years than most people do in a lifetime."