Severn Barrage costs 'outweigh benefits', says Friends of the Earth Cymru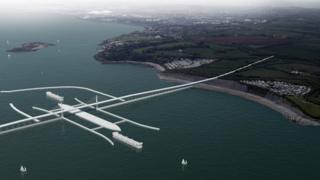 The falling cost of wind and solar energy will soon leave the business case for a Severn barrage "dead in the water", an environmental group claims.
Friends of the Earth (FoE) Cymru says a proposed barrage could become one of the most expensive renewable energy schemes in history.
Its director Gareth Clubb will tell an influential group of Welsh MPs that the costs would outweigh the benefits.
Supporters say the barrage would provide 5% of UK electricity.
Mr Clubb, who is to give evidence to the Welsh Affairs Committee at Westminster on Wednesday, said: "Building a huge barrage across an important habitat makes no sense for jobs, for energy, or for the environment.
"The future for electricity generation is in decentralised renewable electricity networks.
"The costs of solar and onshore wind are falling steadily, and will soon leave the business case for a barrage dead in the water."
Estimates have put the cost of an 18km (11 mile) barrage between the Vale of Glamorgan and Weston-super-Mare at around £30bn.
Energy Secretary Ed Davey has said that if the right proposals were submitted, the UK government would look at them.
A special Act of Parliament will have to be passed if the plans are to go ahead.
The firm behind the scheme, Hafren Power, has been in talks with UK government ministers and environmental groups.
But Mr Clubb added: "A barrage won't be powering a single light bulb until at least 2025.
"By then it could be one of the most expensive renewable energy schemes in history."
Hafren Power has said it has improved on previous plans for a barrage that were rejected in 2010 by using smaller turbines that can generate power on both the rising and falling tide and at slower speeds.
The changes, the company has said, mean its plans are more fish-friendly and will also reduce the amount of inter-tidal mud flats that will be lost to feeding birds.