Ystalyfera landslide residents join together to get area made safe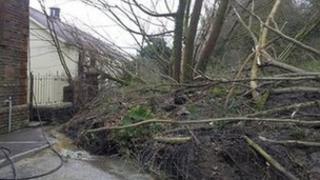 People living near a landslide in the Swansea Valley hope a newly-formed residents association can ensure work is carried out to make the area safe.
Some residents were evacuated before Christmas, and the old main road into Ystalyfera remains closed.
Neath Port Talbot Council, which is working to solve the problem, will hold an internal meeting later on Friday.
The public are advised to stay away from the landslide area, as there remains a risk of a further landslip.
A meeting of the residents was called on Thursday by community councillor Tony Randall, who was also part of another residents association following a similar landslide in 1986.
He said getting everyone together meant information could be easily shared, while meetings could also be arranged between the residents and council.
'Urgency'
"The problems are caused by water, mining and a quarry, and there has also been open casting on the other time at one time... but none of these have been resolved by putting draining on the mountain," he said.
Nigel Bell's family has lived in the area for 50 years and he says there has been a landslide "every eight to 10 years in the area.
"There has not been a follow up from the council regarding sorting out the problem on a medium to long term basis so we feel it is important to get together to draw attention to our longer term plight.
"We feel our area is blighted by the ever present prospect of another landslide at anytime."
Mr Bell said his fear was that some work would initially be carried out in the area, but nothing would happen in the longer-term.
"We are concerned that there does not seem to be any urgency to the situation.
"We've not been seen by our MP, not seen by the leader of the council and the press keeps saying eight families are affected. This is not the case.
"It's eight to 12 families affected below the area of the landslide plus another eight to 12 above the landslide.
"The old road into Ystalyfera is closed and may stay closed for many, many months."