Hywel Dda Health Board to close Mynydd Mawr hospital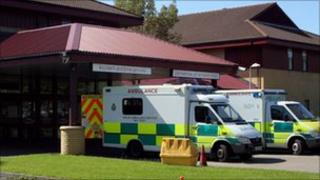 Health managers have agreed to the closure of a community hospital and minor injuries units as part of an NHS shake-up in mid and west Wales.
Hywel Dda Health Board has so far approved the closure of Mynydd Mawr Community Hospital in Tumble and the closure of minor injury units at Tenby and South Pembrokeshire hospitals.
Managers at the special meeting in Carmarthen will vote on the further proposals on Tuesday afternoon.
It follows a 12-week consultation.
Another proposal ratified at the meeting is to develop an orthopaedic centre of excellence at Prince Phillip Hospital in Llanelli.
The health board agreed to transfer services provided from Mynydd Mawr into the community and a new unit at Prince Philip Hospital providing multi-speciality care to the "frailest of our inpatients".
Managers expect the new facility at Prince Philip will be ready by the summer with a new resource centre in Cross Hands open in 2015.
"The health board is very aware of the high regard the local community holds for the hospital but also has a duty to ensure our services and buildings are able to meet the demands of future generations," said Kathryn Davies from the health board.
According to the board, the shake-up is to provide 80% of the region's health services closer to patients' homes.
Before the early decisions were confirmed, Conservative health spokesman Darren Millar said it was "completely unacceptable and wholly irresponsible to wrench local services away from patients".
Under the plans, the accident and emergency department at Llanelli's Prince Philip Hospital in Llanelli would be replaced by an accident centre staffed by nurses. However, the hospital would see new investment in dementia and orthopaedic services.
A new unit to provide specialist care for sick and premature babies is likely to be set up at Carmarthen's Glangwili Hospital, but there are fears the special care baby Unit at Withybush hospital in Haverfordwest could close.
Minor injury services currently provided at Tenby and South Pembrokeshire hospitals would be transferred to GPs, and staff redeployed at Withybush hospital.
Community hospitals would close at Tumble, Tregaron and Aberaeron.
The health board has promised a £40m investment for new community health centres to provide a range of services including diagnostic tests, outpatient appointments and physiotherapy.
These will be at Aberaeron, Cardigan, Carmarthen, Cross Hands, Crymych and Whitland.
'Safe and appropriate'
It is estimated the changes would mean a 20% reduction in acute hospital beds.
The health board insists that none of the proposed changes will take place until it is safe and appropriate to do so.
Board chief executive Trevor Purt said earlier in the day: "We have undertaken extensive and lengthy engagement during the past two years, and more recently a formal consultation.
"We have been considering interim feedback since the close of consultation and, along with other evidence, and in light of the challenges the NHS faces, the board will consider a number of recommendations at its meeting on Tuesday, January 15.
"We would like to remind members of the public that any changes approved by the board will be made to ensure improved outcomes for our patients and to secure safe and sustainable services for the future across Hywel Dda. We will not compromise on patient care."
But the plans have already proved controversial. During the consultation period several petitions were organised objecting to key proposals.
Even so, there was very strong support to the general principle of developing care in the community.
However respondents expressed concern about the capacity of GPs to undertake additional responsibilities.
The local community health council CHC has warned in its consultation response that there was "a clear mistrust" of the health board by the public and deep misgivings about the willingness of managers to take account of consultation responses.
Far-reaching changes
Ultimately, the CHC could refer the plans to Health Minister Lesley Griffiths for a final decision if it believed the board's proposals did not meet the needs of the population.
But others fear that the health board's plans do not go far enough to deal with the pressures it faces.
In its submission to the consultation, the National Clinical Forum - a panel of leading doctors set up to give advice to health boards on service change - said plans to maintain secondary care at four hospital sites were "unsustainable" and that a two-centre model was the "only option with a chance of longer-term sustainability".
Other professional bodies also insist health boards across Wales have no option but to press ahead with far-reaching changes which involve centralising specialist health services in fewer large hospitals.
Hywel Dda will be the first in Wales to finalise plans to reorganise NHS services.
On Friday, Betsi Cadwaldr Health Board will meet to decide how it intends to reshape NHS services in north Wales.
Betsi Cadwaldr has also been consulting on plans to close minor injuries units along with some community hospitals, while specialist care for very ill newborn babies could be moved from Denbighshire's Glan Clwyd Hospital to Arrowe Park Hospital in Wirral.