Grit levels remain high across Wales as snow forecast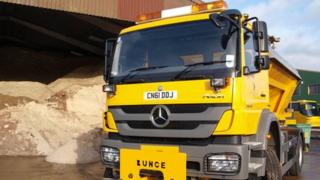 Officials say road grit levels remain high across Wales as the cold snap continues and with warnings of snow on the way.
There are over 200,000 tonnes in stock after Wales began winter with a record 243,000 tonnes and little has been used since, says the Welsh government.
Although last year was relatively mild, many councils hold extra salt stocks after cold winters of 2009 and 2010.
Forecasters say Friday could bring "significant snow" and blizzards.
Tuesday night saw temperatures plummeting to -5C (23F) along the Powys-Monmouthshire border. Up to 15cm (6in) of snow is expected in the hills on Friday.
Some 137,000 tonnes of grit were held in 2010, when the UK experienced severe winter weather.
The figure of 243,000 represented the combined stocks of the Welsh government and individual councils.
A Welsh government spokesman said: "There has been minimal salt use and consequently salt stock levels remain at a high level throughout Wales of 200,000 tonnes."
The Welsh Local Government Association (WLGA) said Wales entered the winter months well prepared, and councils and the Welsh government had worked "to ensure greater resilience at a national level".
A spokesman said that "while any prolonged periods of snow will inevitably result in stock holdings running down quickly, ongoing discussions with the main suppliers to Welsh authorities will ensure that restocking takes place in a strategic way during the winter period".
Pembrokeshire council says it has about 6,800 tonnes of grit, with 800 tonnes on order which will take the council's overall levels to 95% of capacity.
Monmouthshire has stocked 7,500 tonnes of road salt in previous years, but increased the amount to 10,000 tonnes this winter, and has 8,000 tonnes left.
Conwy council has 10,500 tonnes, with a further delivery expected this week.
Wrexham started the winter with 8,000 tonnes - more than it held in the winter of 2010/11 - and says it is "very confident stock levels are high".
Denbighshire council has 7,000 tonnes in stock and they say in an average winter they use about 4,500 tonnes.
Torfaen council started the winter with 6,000 tonnes and has about 5,000 tonnes left - enough for a month in "severe weather and much longer in normal conditions for this time of year".
Powys council said the county had 15,000 tonnes in stock on 10 January.
Vale of Glamorgan council has 3,400 tonnes of salt, which it says is "higher than levels in previous years".
Rhondda Cynon Taf said it was "in a strong position and is confident in its supplies" for the weeks ahead.
In Gwynedd, there is 14,500 tonnes of rock salt, and 10,200 in stock in Flintshire.
Neath Port Talbot council currently has 4,500 tonnes of rock salt and another 3,500 tonnes ordered for February, while Ceredigion has 9,100 tonnes - enough for 56 days of "normal usage".
In Cardiff, 6,000 tonnes are in stock, 50% more than the county held two winters ago.
Carmarthenshire has 14,300 tonnes of stocked salt, double the amount held three years ago.
Bridgend council said its current stock of 3,900 tonnes would allow it to grit its entire network 88 times.
Merthyr council has 1,000 tonnes of salt in stock and has ordered a further 600 tonnes which was due to arrive on Thursday.