Brian Grady: MP David Davies' missing Prescoed killer alarm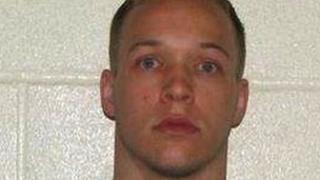 A Conservative MP has attacked a risk assessment which led to a murderer's transfer to an open prison from where he has now gone on the run.
Brian Grady, 26, from Bristol, failed to return to HMP Prescoed in Monmouthshire on Monday.
Monmouth MP David Davies said he had met Home Secretary Theresa May to express his concerns about the case.
A man and woman from the Bristol area have been arrested on suspicion of assisting a prisoner to escape.
Gwent Police said the 37-year-old man and a 34-year-old woman are in custody helping officers with their inquiries.
Their hunt for Grady is continuing.
It comes as Mr Davies said Ms May had given him a "personal assurance" that the police were doing "everything possible" to secure Grady's recapture.
"She pointed out that the current government was not responsible for the sentence he received, which in my opinion was extraordinarily lenient given the nature of the crimes he committed," he added.
"Grady would have been within a year or less of release and it is normal practice that prisoners coming to the end of a sentence are moved to an open prison.
"However, they should first be fully assessed and clearly in this case the assessment was wrong."
Grady, also known as Brian Revill, had served most of his 11-year term for killing a man who tried to stop him during a mugging in Bristol.
He was convicted of killing Liam Attwell in the Canon's Marsh area of Bristol in 2003 and was sentenced at the city's crown court to serve at least 11 years for murder and robbery.
Grady is described as white, 5ft 11in, of medium build, with short light brown hair and blue eyes. He has a scar under his left eye and speaks with a Bristol accent.
Police believe he could be in the Bristol area because he has contacts there.
People are advised not to approach him but to call police if they have any information on his whereabouts.