North Wales Police breath tests most drivers in Wales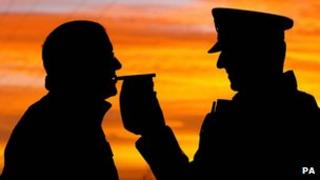 A force which polices less than a quarter of the population of Wales was responsible for more than half of the country's breath tests over Christmas.
North Wales Police, covering a population of 675,000, tested 18,780 people between 1 December 2012 and 1 January 2013, with 107 positive tests.
The other three Welsh forces combined tested 16,713 in the same period.
North Wales Police said its high volume tactic resulted in its aim of no Christmas alcohol-related road deaths.
Ch Insp Darren Wareing, who is in charge of the North Wales Police roads policing unit, said there had been an increase in road deaths over the festive period in recent years.
He said he wanted a "deliberate" and "all-out effort" to stop the deaths, adding: "I want to stop having to go and knock on people's doors and tell them their children have died.
"There was a tactic, and it was quite simple - to achieve, if we possibly could, zero people killed on our roads as a result of a driver having consumed alcohol or drugs."
Officers are not allowed to randomly stop drivers for breath testing.
Drink-related accidents
However, North Wales Police deliberately targeted routes with a high volume of people, and asked drivers if they would mind taking a test as part of the force's anti-drink-driving campaign.
The majority said yes, according to Ch Insp Wareing, but anyone declining was allowed to go on their way.
He added: "The support we got on the roadside was great, and I really want to thank the people of north Wales.
"It was to try and influence as many people as we could, and for other people to see it as well."
As a result, he said, there were no injuries on north Wales' roads over Christmas as a result of drivers having consumed excess alcohol or drugs.
He said the force also runs an intelligence-led drink-drive operation throughout the year, called Operation Sodium.
South Wales Police, with a population of more than 1.2 million people, tested 3,703 people over Christmas.
It said its operation was intelligence-led, and resulted in 156 tests being positive, failed or refused.
'Strong message'
The Gwent force (population 560,000) also conducted an intelligence-led operation resulting in 1,935 tests, with 39 being positive, failed or refused.
The Dyfed Powys force area (population 488,000) had the highest number of positive, failed or refused tests - 200 out of 11,075. The force said it used the combined tactics of high levels of testing, and intelligence-led operations.
Edmund King, AA president, said: "The increase in the number of breath tests in north Wales sent out a strong message that the police are actively stopping drivers, whilst the targeted south Wales approach sent out a message that increased police intelligence-led activity meant that drink drivers are more likely to be caught.
"However, drink driving is a year-round problem so we hope that the police in Wales will also conduct high profile anti drink-drive campaigns at other times of the year.
"Drivers in Wales should remember that if they are going to drive, they should not drink and if they are going to drink, they should not drive."