Wales snow: Possible severe weather forecast for Friday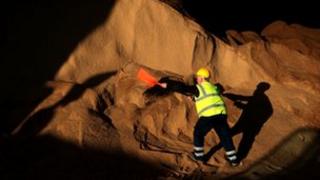 Snow has already begun falling as Wales braces itself for possible severe weather.
It has been snowing in areas of Gwynedd overnight, and South Wales Police have had reports of snow from west Wales through to Maesteg.
Dyfed-Powys Police say the A482 between Lampeter and Pumsaint, Ceredigion, is closed with vehicles stuck in snow.
A band of rain is due to hit cold air this evening, falling as sleet or snow, and blizzards are possible.
Councils across Wales say they are prepared, with road grit levels remaining high after record stocks.
There are more than 200,000 tonnes in stock after Wales began the winter with a record 243,000 tonnes and relatively little has been used since.
BBC Wales weather presenter Behnaz Akhgar said Thursday evening into Friday is "where it gets interesting", with a band of rain spreading from the west and expected to fall as sleet or snow as it spreads inland.
She said 5-10cm (2-4 inches) was expected widely, with up to 25cm (nearly 10 inches) possible in some places.
Blizzards are possible and an amber weather warning (urging people to be prepared) has been issued by the Met Office.
Temperatures have already dropped to -5C (23F) in areas of Wales this week.