National Museum Wales review on 'new structure'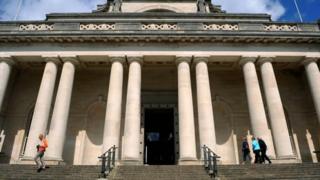 The 650 staff at Wales' museum service are to be told next week about proposals for a "new structure" for the national heritage body.
The service, which operates at seven sites across Wales, has seen its funding cut by £5m over three years from 2011 by the Welsh government.
National Museum Wales (NMW) said it is to hold a review of the service.
A series of meetings is expected to be held with staff at each museum, as well as with representatives of two unions.
A spokeswoman said proposals for the new structure were still at the development stage and the organisation was liaising with trade unions.
She said: "Early next week, Amgueddfa Cymru - National Museum Wales will embark on a period of consultation with its staff and key partners, including the trade unions, regarding a proposed new structure for the museum.
"Consultation will take place over the coming weeks before definitive decisions are taken."
Prospect and the Public and Commercial Services Union have been asked to comment.
NMW's review announcement comes as it is pressing ahead with a planned £25m revamp and expansion of St Fagans National History Museum, Wales' most popular heritage attraction.
It has described the proposals, including a new building for exhibitions and improved visitor facilities, as the "most radical" in the museum's 63-year history.
The plans are backed by £11.5m from the the Heritage Lottery Fund (HLF) and £6m from the Welsh government. NMW has launched an appeal for the shortfall.
Last year, NMW claimed its best visitor figures since it introduced free entry in 2001. It said its seven museums around Wales received a total of 1.69m visits in 2011-12.