NHS Wales: Betsi Cadwaladr confirms plans to close four hospitals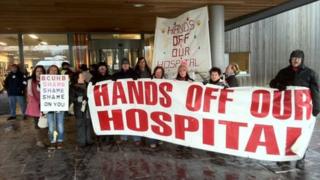 Four community hospitals will close as part of a shake-up of health care in north Wales.
Hospitals at Blaenau Ffestiniog, Flint, Llangollen and Prestatyn will see services switched to 10 other locations after Betsi Cadwaladr University Health Board confirmed their closures.
The board also announced it will move specialist intensive care for babies to England.
But is has decided not to stop x-ray services at Caernarfon and Pwllheli.
Since the plans were initially proposed, they have met strong public opposition and protests.
And the board meeting in St Asaph, Denbighshire, on Friday was interrupted briefly when a man stood up and said the public had no confidence in the consultation.
The chairman threatened to turn the meeting into a closed session and the individual stood down.
The board has insisted it must move forward with overhauling services, to meet the challenges of an ageing population, retaining and recruiting medical expertise, and to meet financial pressures on the NHS.
Dr Martin Duerden, medical director of trust, told the meeting: "There are some very difficult decisions we need to make. They are highly contentious. Some people will be upset, but whatever decision we make we are not in a position to do nothing.
"There will be differences of opinion between doctors, nurses and the public, but we have to reach agreement.
"Things are changing. Health technology is changing, the population is changing. There's a general trend to do as much as we can in the community but to centralise specialist services - this creates a balancing act.
"Money is a consideration, but it's not the only consideration. We have not had a growth in our budget for some time and don't expect growth for some time yet."
He said one contentious issue was specialist neo-natal care, which will move from Glan Clwyd Hospital at Bodelwyddan and Wrexham's Maelor Hospital to Arrowe Park Hospital in Wirral.
But he added only a very small number of babies needed such intense specialist care.
The plan has been criticised by the Royal College of Midwives Wales, the British Medical Association Wales and the Royal College of Nursing Wales.
It has also been attacked by those who have relied on the current intensive neonatal care provided in north Wales, including Lucy Owens, whose daughter Betrys was cared for at Glan Clwyd.
"Just try to put yourself in the position of these people, as we were, and many others are," she explained.
"Just think how you would cope in this situation if you had to travel every day to see your baby."
Public protests
As well as the closures Blaenau Ffestiniog, Flint, Llangollen and Prestatyn community hospitals, minor injury units at Chirk, Colwyn Bay and Ruthin will also be cut, along with a number of x-ray departments.
But those services will remain at Mold community hospital.
Linda Wyn Jones, who has been campaigning to save Blaenau Ffestiniog's hospital, dismissed the public consultation process which took place.
"I want to keep the hospital because it is an essential part of Blaenau Ffestiniog and its community," she said.
The north Wales hospital review comes in the same week the Hywel Dda health board announced its plans to shake up health services in mid and west Wales.
Marcus Longley, the director of Welsh Institute for Health and Social Care at the University of Glamorgan, said the challenges of an ageing population and the financial climate are being faced by all health boards across Wales.
"The problem I think for the health care system, the health boards, is how quickly can you change something as complex and interdependent as that?" he said.
"It's a huge task they are having to face and they have got to do it in almost no time at all, because the pressure is really on. They haven't got the luxury of years to keep fiddling around to get it right."