Peacocks: New owners restore fortunes of fashion chain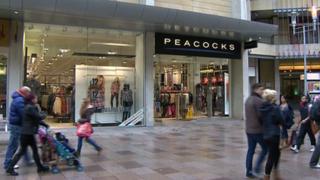 The company that bought the clothing store chain Peacocks out of administration has set out plans to resume international expansion.
The Cardiff-based retailer collapsed with huge debts exactly a year ago, with 250 jobs lost at head office and more than 200 stores closing.
Since then new owner Edinburgh Woollen Mill (EWM) has taken on more than 1,000 new staff and opened 45 stores.
Retail experts say EWM has saved Peacocks by going "back to basics".
The current batch of administrations on the High Street is a reminder of the huge uncertainty that surrounded the future of the Cardiff-based retailer Peacocks exactly a year ago.
It collapsed with debts of hundreds of millions of pounds, making it the biggest corporate failure in Wales in many years.
Around 250 jobs were lost immediately at the Cardiff HQ and more than 200 stores were closed around the UK while a buyer was sought.
Edinburgh Woollen Mill (EWM) eventually took it out of administration.
Since then it says it has opened 45 stores around the UK, taken on more than 1,000 staff and turned in Peacock's first profit over Christmas in six years.
There are currently 450 Peacocks stores.
EWM says it wants to open hundreds more in the UK and abroad at some stage in the future.
There are plans to resume the international expansion in Germany and the Middle East after it came to an end last year when the financial problems struck.
The company also renewed its commitment to keeping the head office and distribution functions in south Wales.
Alistair Wardell, an insolvency expert at Grant Thornton, said the deal by Edinburgh Woollen Mill had provided a positive outcome for Peacocks.
'Back to basics'
"It's rescued them and given them security and they seem to be doing very well, a very good result," he said.
So how different is the company now than it was under the previous chief executive Richard Kirk?
The new owners said in the spring of last year they felt that the firm had become too expensive and lost sight of its core customers.
George MacDonald, the executive editor of Retail Week, believes the new owners have followed this through by focusing on the more traditional customers rather than trying to copy stores like Top Shop in the high fashion stakes.
"I think they have gone back to basics," he said.
"These days people want stylish clothes no matter what they are. They don't expect to find dowdy clothes even if they are paying low prices so it's about striking that balance.
"Edinburgh Woollen Mill has focused on the basic lines, the sort of classic things you would associate with Peacocks."