Western Power supplies cut by snow in south Wales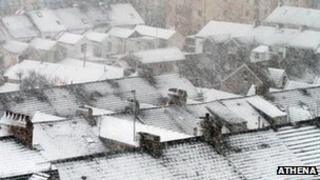 Engineers say they are working as quickly as possible to restore supplies cut to 10,000 customers in south Wales due to the bad weather.
Areas most affected are Pembrokeshire and Carmarthenshire, with Swansea, Bridgend, Cardiff, Vale of Glamorgan and the south Wales valleys hit too.
Western Power says engineers are having difficulty reaching some faults due to road conditions.
They say problems in west Wales may take longer to fix due to the weather.
Phil Davies, of Western Power Distribution, said staff were increased overnight in anticipation of the bad weather.
He explained there are about 45 high voltage power faults across the area but, due to their locations, some were proving hard to teach due to the conditions.
"We have lots of 4x4 vehicles but even with 4x4 vehicles we're having a real problem getting to the faults," he said.
"We can't get there, the roads are treacherous.
"West Wales is going to be be a bit of a job to get fixed."
Mr Davies said some of the problems have been caused by excessive snow and water "sticking" to power cables causing the conductors to fail.
He advised customers to "sit tight" and assured them that engineers were working as fast as possible.
"If you are in any difficulty ring our emergency line. We will provide as much help as we can," he said.
Call Western Power Distribution on 0800 052 0400.
Meanwhile, the main Carmel radio transmitter serving Carmarthenshire also had power problems affecting 300,000 people, however it is working again with reduced power.