Wales snow: A-level exams hit by bad weather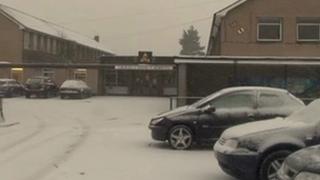 A-level exams have been hit as snow and ice hinders access to schools.
Across Wales 1,200 schools have closed, but many secondary schools have stayed open only for exam candidates.
Exam board the WJEC says exams can be taken at alternative locations during bad weather, under strict conditions, or taken at a later date.
At Ysgol y Berwyn in Bala, Gwynedd, some teachers and pupils stayed overnight in the town while others came to school in 4x4 vehicles.
Some councils - including Blaenau Gwent, Monmouthshire, Swansea and Torfaen in south Wales - have closed their schools to all pupils except those taking A level exams.
The WJEC examination board website has advice on what to do if adverse weather affects exams.
It says pupils need to let their school or college know their circumstances.
"If the examination unit you were going to sit is available again in May/June, you will have the opportunity to sit it then, if your school or college agrees.
"If this is your last opportunity to sit an older unit (because the specification will have changed), your centre may apply for Special Consideration on your behalf."
However, the WJEC said applications for special consideration were very rare.
Bad weather affecting travel can also be taken into consideration, the website adds.
"There is some leeway when, if you are late, you will still be allowed to sit your exam.
"Contact your school or college to let them know if you think you might be late, and make sure that you avoid contact with any candidates who may have come out early from your exam."
Transport problems
Andrew Roberts, headmaster of Ysgol y Berwyn, said the school is open for exams only.
"Many of our pupils live in out-lying areas, very rural, small un-gritted roads and asking them to come to school today would not be fair on health and safety grounds," he said.
He said the the decision to open to exam pupils taking design and technology, history and maths was taken so that they would not have to sit extra A-levels in the summer.
"These A-level units can only be held on certain days and today there are design and technology, history and maths exams.
"If they don't get into school to sit them today they will have to sit them in the summer, which means a doubling up of exams to sit at that time.
"We've been quite fortunate that some pupils have had 4x4s to bring them in, one's come on a quad bike and even the staff that administer these exams - some of whom live in outlying areas - stayed with family and friends in Bala last night to be able to come in to the school this morning."