Broadband: £425m project to begin Wales roll-out in 2013/14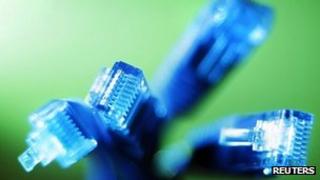 Fourteen areas are to benefit from "superfast" broadband which is being rolled out in 2013/14.
On the roll-out list is Blaenau Gwent, Bridgend, Caerphilly, Denbighshire, Flintshire, Gwynedd, Isle of Anglesey, Merthyr Tydfil, Neath Porth Talbot, Newport, Powys, Rhondda Cynon Taf, Swansea and the Vale of Glamorgan.
The Next Generation Broadband Project will extend to all Wales in 2014/15.
The aim is to get better speeds to 96% of Welsh homes and businesses.
The announcement was made by Welsh Business Minister Edwina Hart.
She said the roll-out had been prepared after taking into account local demographics and the cartography of Wales, together with the Welsh government's economic priorities including enterprise zones and Powys local growth zones.
Montgomery AM, Russell George said he was pleased the project had now started.
"This is an extremely important programme for rural mid Wales and I hope it will transform the lives and livelihoods of the vast majority of people in Powys," he said.
Mr George said he believed the "Speed up broadband in Montgomeryshire" campaign had played a "vital part" in providing strong evidence of the need for faster broadband.
"It enabled me to lobby the business minister to have Powys prioritised," he said.
More detail is still needed, especially regarding the exact timescale for roll-out in Powys, he added.
The project will be delivered by BT and Mr George said he planned to attend a briefing next week in the National Assembly about the project.
"I have a personal meeting scheduled with the director of BT in Wales, Ann Beynon, in the next few weeks and I will be using both opportunities to question the Welsh Government and BT further on the proposed plans," he added.
Funding for the project will come from the Broadband Delivery UK (BDUK) office (£59.9m), the Welsh government (£58m) and the European Regional Development Fund (RSDF).
In addition, BT says it is investing around £220m in "fibre broadband" in Wales with most of that going towards the project.