Cystic Fibrosis Trust in Kalydeco drug plea for Wales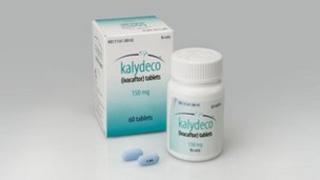 Patients in Wales with a certain form of cystic fibrosis need the same life-changing drug as their counterparts in England, a charity says.
Cystic fibrosis is a life-threatening genetic disorder which damages the lungs and digestive system.
The Cystic Fibrosis Trust has written to health minister Lesley Griffiths calling for a decision on the Kalydeco drug brought forward from May.
The Welsh government said an assessment of the drug takes about 21 weeks.
The drug, also known as Ivacaftor, has been provided to NHS patients in England from the start of this year while those in Scotland will be able to access it from March, says the trust.
Trust chief executive Ed Owen said in a letter to Health Minister Lesley Griffiths that to withhold a decision in Wales until May would cause "considerable heartache" and "agony" for families.
He said: "We are very concerned that because the All Wales Medicines Strategy Group is not expected to come to a decision on funding until May, Welsh patients face a wait of at least four months at a time when the drug is freely available within the NHS in England.
"This situation is causing considerable heartache and agony for families affected in Wales, especially since a decision this week in Scotland means that Scottish patients are now also able to access Kalydeco from 1 March 2013, following the Scottish government's announcement of a £21m rare disease fund.
"As the organisation representing people with cystic fibrosis across the UK, the Cystic Fibrosis Trust would be appalled at a situation where people in Wales were denied a potentially life-changing treatment freely available to those in England and soon Scotland."
The trust said funding of Kalydeco should not impact on the wider funding of cystic fibrosis care.
The drug is said to be the first to treat the root cause of cystic fibrosis for people with the G551D mutation.
'Appraisal decision'
About 4% of patients across the UK have this mutation, equating to around 10 patients in Wales who could benefit, the trust estimates.
A Welsh government spokesperson said: "The All Wales Medicines Strategy Group started the assessment of Ivacaftor (Kalydeco) as soon as the drug company formally engaged with the appraisal process.
"This process is recognised to be robust and normally takes about 21 weeks to allow all parties, including patient organisations such as the Cystic Fibrosis Trust, to submit their comments.
"The final appraisal decision for Kalydeco is scheduled to be reached at a public meeting on 8th May 2013."