Freeview retune in south Wales for 4G mobile broadband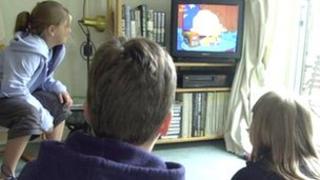 Freeview TVs and boxes in south Wales will have to be retuned as local airwaves are cleared for the roll-out of faster mobile broadband.
Technical changes to the Wenvoe transmitter in the Vale of Glamorgan will free frequencies for future fourth generation (4G) mobile services.
The UK's first major 4G service went live in 11 cities, including Cardiff, in October.
Viewers can retune at any point after 06:00 GMT on Wednesday.
Some TV channels were off-air overnight as channels including Film4, ITV4 and Yesterday were moved to new frequencies.
Only homes receiving their television from the main Wenvoe transmitter will need to retune.
David Scott, chief executive of Digital UK, which is launching an information campaign about retuning, said: "It's a good idea to retune your Freeview TV or box regularly to make sure your channel list is up to date.
"It usually only takes a few minutes but if anyone is unsure what to do, there's plenty of information available on our website or from our advice line team."
Between now and the end of 2013 a number of transmitters across the UK will undergo similar upgrades to prepare for 4G.
4G offers increased speed and capacity and allows for high-quality streaming of audio, video and other content while on the move.
The UK's conversion to digital TV began in 2007, with a region-by-region switch-off.