Ovarian cancer: Welsh government acts to speed up diagnosis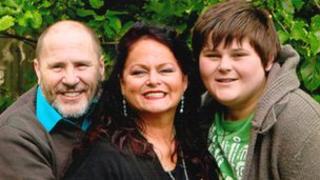 Action to try to speed up the time it takes to diagnose women who have ovarian cancer is being taken by the Welsh government.
More than 380 women in Wales are told they have the cancer each year.
But the charity Target Ovarian Cancer said their lives are being "cut short because of delays to their diagnoses", adding that misdiagnosis is common.
The Welsh government said it is now monitoring when cancer is diagnosed to improve the survival rates.
Women diagnosed at the earliest stage of ovarian cancer are predicted to have a five year survival rate.
But only 36% of sufferers in the UK are living this long after diagnosis - a survival rate which is among the worst in Europe, according to the charity.
It says its new study shows that women across the UK are still "facing delays that are costing lives".
It found:
One in four women in the UK diagnosed with ovarian cancer in the last five years took more than three months to visit their GP after they began experiencing symptoms. And over half took more than a month.
Once at their GP's surgery, the women still faced problems getting a correct diagnosis. For almost a third of women diagnosis took more than six months after they first went to see their doctor.
Misdiagnosis is common, with 30% of women misdiagnosed as having irritable bowel syndrome, 15% ovarian cysts and 13% a urinary infection.
The charity also surveyed health professionals, with over half of clinicians believing that improving diagnosis times is an "urgent" issue for women in the UK.
Symptoms of ovarian cancer can include persistent pelvic or abdominal pain, persistent bloating, difficulty eating and urinary problems, according to the charity.
But Annwen Jones, chief executive of Target Ovarian Cancer, said many women and GPs were unaware of them.
"75% of women are diagnosed once the cancer has spread," she said.
"This is unacceptable. We must improve symptom awareness with women, improve GP knowledge and ensure they have prompt access to diagnostic tests."
A Welsh government spokesperson said it was aiming to ensure that cancer survival rates in Wales are on a par with the best in Europe by 2015.
"To achieve these goals, we have developed the Cancer Delivery Plan," they said.
"The first annual report on the plan, published in December, showed good progress in a number of areas but recognised there is more to do to improve early diagnosis.
"We are, for the first time, monitoring data on the stage at which a cancer is diagnosed in order to drive this improvement.
"GPs in Wales are expected to assess and refer patients in line with the NICE guidelines on assessing women they suspect of having ovarian cancer.
"There are formal waiting times targets for the start of cancer treatment that are robustly monitored and local health boards are held to account for delivery."