Flybe reviews Cardiff Airport flights in job cuts plan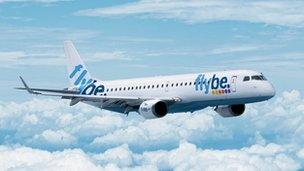 Airline Flybe is reviewing operations at Cardiff Airport and 12 others in the UK as part of 300 planned job cuts.
The announcement comes a month after the Welsh government revealed plans to buy Cardiff Airport, whose passenger numbers slumped to 1.2m in 2011.
Conservatives called the Flybe news worrying and urged the Welsh government to show ambition for the airport. Ministers have been asked to comment.
The Exeter-based airline aims to cut its UK costs by £35m and staff by 10%.
The Welsh government expects to complete the Cardiff deal in coming months after making an agreement with owner TBI.
Passenger numbers at Cardiff's nearest competitor, Bristol Airport, rose 1% to more than 5.7m over the same period that Cardiff's fell in 2011.
Andrew RT Davies, leader of the Conservatives in the Welsh assembly, said he had tabled an urgent question to Business Minister Edwina Hart about Flybe's announcement, but was surprised that it had been turned down by Presiding Officer Rosemary Butler.
He called it "worrying" for the airport.
"This announcement must be turned into a positive and the Welsh government must display its ambition, assisting the airport in promoting the large potential consumer base and growth potential that the site has to offer," he said.
Mr Davies, whose South Wales Central seat includes the airport, said: "If, on the other hand, the Welsh government choose to sit back and fail to assist the operators then sadly one could see Flybe going down the same road as so many other operators in recent years - and relocating elsewhere.
"This must not be allowed to happen and I, along with other local representatives, will be working tirelessly to achieve success for Cardiff Airport."
The Welsh government said Flybe provided "excellent connectivity" and it had an excellent working relationship with the airline.
"Today's announcement by Flybe makes it clear that there will be no change to its current route network and whilst they operate five routes from Cardiff they do not have a base here, so there are no staffing/job loss implications for Wales either," said a spokesperson.
Flybe chairman and chief executive Jim French said: "I am extremely disappointed that many valued and hard-working colleagues may have to leave the organisation.
"We will make every effort to minimise the impact and to offer support wherever possible in the transition."
David Bryon, a former managing director of bmibaby, said Cardiff Airport was likely to pay a price for being "in the wrong place".
He said: "The news today will come as no surprise to the industry as airlines continue to battle against rising costs, reduced passenger traffic and increased competition.
"Flyby has announced that no bases will shut but clearly there will be an impact to their operation and flight frequencies at a number of airports.
"The impact on Cardiff is not currently known but given the issues with Cardiff Airport over the last few years, there will be close scrutiny of the performance of all routes in and out of south Wales."
Vale of Glamorgan MP Alun Cairns said he had asked Flybe for a meeting with its executives to discuss his concerns, although the firm's expected redundancies were likely to be in Exeter, Manchester and Newcastle.
He said: "It is vital that the Welsh government now do all they can to support Cardiff Airport and its relationship with Flybe, as the first minister pushes through the government's plan to purchase the airport.
"This needs the Welsh government's urgent attention."
Flybe said passenger numbers went up by 1.7% to 1.8 million in the last three months of 2012, but passenger revenues fell 1.2% to £136.9m and costs also increased.
Related Internet Links
The BBC is not responsible for the content of external sites.