Flybe says its review will not affect Cardiff Airport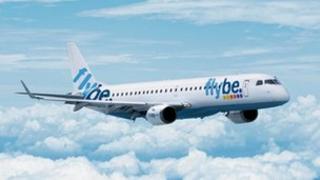 Airline Flybe says Cardiff Airport will not be affected by a review of its operations, despite an earlier statement that it would be included.
It had said earlier on Wednesday that it was examining services at Cardiff and 12 other 13 UK airports.
That worried some politicians, as the Welsh government is due to complete its purchase of the airport soon.
But the airline later said that in fact there would be no impact on jobs or services at Cardiff.
Just over a month ago, the Welsh government revealed its plans to buy the airport, with First Minister Carwyn Jones emphasising "the importance to Wales of a dynamic international gateway airport in Cardiff".
In making its initial announcement, Exeter-based Flybe said it had to cut its UK costs by £35m and staff by 10%, losing 300 posts.
However, Niall Duffy of Flybe said later: "I am glad to inform you that our operations at Cardiff Airport are unaffected by the announcement made today regarding the difficult decisions taken by Flybe to secure the business and to enable us to exploit further European potential".
Mr Duffy explained that would be a review "of everything across the board, and someone took that to mean specifically Cardiff".
He added: "We can confirm there will be no impact firstly on jobs and no impact on services [at Cardiff]."
Passenger numbers at Cardiff slumped to 1.2m in 2011.
The Welsh government expects to complete the Cardiff deal in coming months after making an agreement with owner TBI.
Passenger numbers at Cardiff's nearest competitor, Bristol Airport, rose 1% to more than 5.7m over the same period that Cardiff's fell in 2011.
Flybe said passenger numbers went up by 1.7% to 1.8 million in the last three months of 2012, but passenger revenues fell 1.2% to £136.9m and costs also increased.