Group of AMs unite to stop plans to remove north Wales' neonatal services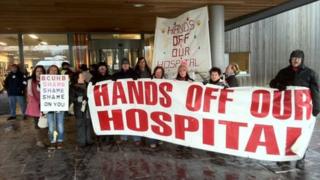 A cross-party group of members of the Welsh assembly, including a Labour AM, have united in an attempt to save local health services in north Wales.
The four AMs want Health Minister Lesley Griffiths to intervene in plans to move specialist intensive baby care to England.
Betsi Cadwaladr University Health Board has said it must overhaul services.
The board cites an ageing population, retaining and recruiting medical expertise and financial strain.
The group - Ann Jones AM (Labour), Darren Millar AM (Conservative), Llyr Huws Gruffydd AM (Plaid Cymru), and Aled Roberts AM (Liberal Democrat) - have also written to the local Community Health Council (CHC) urging the watchdog to formally object to the health board's findings.
The CHC has the legal right to refer the health board's reconfiguration decisions to the minister for her to decide whether they should go ahead.
The letter to the minister questions the quality and sustainability of the plans to treat the most seriously ill newborn babies at Arrowe Park in Wirral in future, adding that they do not currently meet national guidelines.
It says: "We are concerned that health board members have failed to give proper consideration to all of these issues prior to making their decision and would request your urgent intervention to prevent any changes in neo-natal care from being implemented until such time as you are able to undertake your own assessment of the available evidence."
'Highly contentious'
They also said the move would go against the advice of Betsi Cadwaladr's own clinical reference group, as well as the British Medical Association, Royal College of Nursing and Royal College of Midwifery.
During health questions in the Welsh assembly on Wednesday, Ms Griffiths told AMs: "I will look at the letter and respond in due course".
Betsi Cadwaladr announced the proposed changes last week, insisting that it must move forward with overhauling services, to meet the challenges of an ageing population, retaining and recruiting medical expertise, and to meet financial pressures on the NHS.
Dr Martin Duerden, medical director of the trust, told the meeting: "There are some very difficult decisions we need to make. They are highly contentious. Some people will be upset, but whatever decision we make we are not in a position to do nothing.
"There will be differences of opinion between doctors, nurses and the public, but we have to reach agreement.
He admitted that moving specialist neo-natal care from Glan Clwyd Hospital at Bodelwyddan and Wrexham's Maelor Hospital to Arrowe Park Hospital in Wirral was controversial.
But he added that only a very small number of babies needed such intense specialist care.
The proposed changes also included plans to close four community hospitals.
The north Wales hospital review came in the same week the Hywel Dda Health Board announced its plans to shake up health services in mid and west Wales.