Welsh assembly: Presiding officer wants more women AMs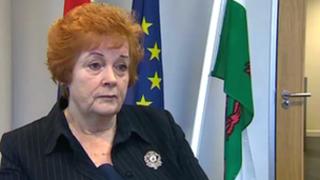 The Welsh assembly's main political parties' leaders have been urged by Presiding Officer Rosemary Butler to ensure more women are elected.
Mrs Butler, who has written to the four party leaders, says the assembly's make-up must reflect the population for it to be effective.
She said women were not "coming forward" in many walks of public life across Wales.
In 2006, 52% of the 60 AMs were women, but that figure has now fallen to 44%.
In her private letters to the four parties, she urges action from the leaders.
She told the Sunday Politics on BBC One Wales that the assembly had previously had "enormous success" in electing women, but the number has dropped.
She said: "When you think that women are over 50% of the population, that's a huge resource to be wasted and if we are to be effective as an assembly here for example, we do need to reflect the make up of the population."
Mrs Butler is also concerned that women are under represented across public life generally.
"The more I went about as a presiding officer I could see that there were very few in local government, very few women magistrates, all the public health boards, school governors - there just aren't the women coming forward," she added.
Series of seminars
Her call comes as a result of a Women in Public Life conference in November which was the culmination of a series of seminars with women across the five electoral regions of Wales over the past nine months.
However, Ms Butler admits she does not know how to resolve the issue.
"Well if I had the answer to this I wouldn't be sitting here discussing why we don't have women in public office," she said.
"I was mandated to write to the party leaders and I've asked them how they would do it.
"I wouldn't prescribe a particular way of doing it but I'm sure there must be a way of ensuring that more women come forward for assembly elections.
"But as I say it's not just about the assembly that I'm interested in - it's life across Wales."
Increasing the number of female AMs would lead to better policies, she believes
"I'm not saying that women are better than men, we're just very different," she said.
"Working together with men and women you do get much better policies, and research has been done across the world to show that when you get mixed genders on legislatures you do get very very much better policies."
The Sunday Politics Wales can be seen from 11:00 GMT on BBC1 Wales on Sunday.